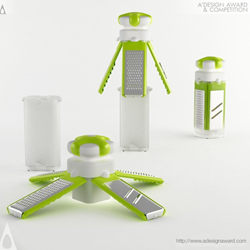 Como, Italy (PRWEB) December 18, 2013
A' Design Award and Competitions are delighted to share that the work Satellite by Designnobis Team has been granted the famous Silver A' Design Award in Bake ware, Tableware, Drink ware and Cookware Design Category.
Winner Design: Satellite
The Satellite is an all-in-one grater with multiple knives stored inside. Through its expanding form, it opens up and enables grating and shredding directly into bowl or plate. Satellite's wings are designed to clip on dishware with multiple teeth. Fitting in a compact package, it is designed as a space-saving utensil for contemporary kitchens. With changeable stainless steel plates, Satellite enables grating in desired size and shape. Being washable, plates also offer hygiene, where silicone topper enables an ergonomic grasp. Various colors offer a joyful kitchen utensil.
To learn more and download high-resolution photos, please visit: http://www.adesignaward.com/design.php?ID=28340.
Design Team for Satellite
Satellite was made by Designnobis Team
The Silver A' Design Award
The Silver A' Design Award is a prestigious award given to top 5% percentile designs that has delivered an exemplary level of sublimity in design. The designs are judged by a panel of three different jury which is composed of Academic, Professional and Focus Group Members. The designs are evaluated with score normalization to remove any biases and are voted on aspects such as functionality, ergonomics, engineering, presentation, innovation, usability, fun details, technology, and any other specific points that could be considered, each of these points are further weighted for different jury groups.
About A' Design Award and Competitions
A' Design Award and Competitions, aims to highlight the excellent qualifications of best designs, design concepts and design oriented products. A' Design Award and Competitions are organized and awarded annually and internationally in multiple categories to reach a wide, design-oriented audience. Learn more at: http://www.whatisadesignaward.com.