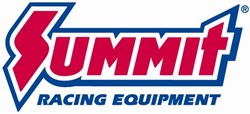 Tallmadge, OH (PRWEB) December 19, 2013
These two new Summit Racing tools should be part of any gearhead's tool arsenal.
INCH-POUND TORQUE WRENCHES
Many modern engines have components with torque specs measured in inch-pounds instead of foot-pounds. These Summit Racing torque wrenches feature a click-style mechanism that accurately measures inch-pounds of torque. They use a ball-bearing mounted handle with a slide collar for calibration. Your choice of a 25-250 inch-pound torque wrench with a 3/8 inch socket drive or a 30-200 inch-pound wrench with a 1/4 inch socket drive.
E-Z PULL EXHAUST PIPE SEPARATORS
These Summit Racing E-Z Pull exhaust pipe separator tools will pull apart crimped or rusted exhaust pipes and mufflers quickly. Just place a clamp and proper-sized jaws on each side of an exhaust joint, line up the drive bolts, and then use a wrench or ratchet to turn the bolts clockwise. Presto—separated exhaust pipes with less effort and fewer curse words. Your choice of EZ-Pull tools for 1.75 to 2.25 inch tubing, 2.5 to 3 inch tubing, or 3.5 to 4 inch tubing.
Summit Racing has tons of other tools you can't live (and work) without too, from hand tools to engine stands, media blasters, welders, and more.
Link to All Summit Racing Tools
Summit Racing Equipment
SummitRacing.com
1-800-230-3030