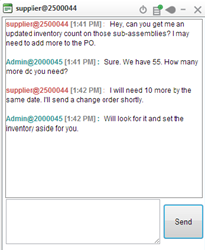 Austin, TX (PRWEB) December 19, 2013
TAKE Supply Chain, a division of TAKE Solutions and a leader in the Supply Chain Management (SCM) sector, today announced its next release of OneSCM®, a highly integrateable supply chain collaboration software solution used by leading companies to manage their extended supply chain operations.
The latest version, OneSCM Enterprise 7.3, includes new buyer-to-supplier communications technology. This release also features additional mobile-enabled transactions for smartphones and tablets, new direct order shipment visibility features, and enhanced AP automation workflow capabilities.
One of the most notable new features is the introduction of TAKE's BusinessChat technology, which enables instant communication between buyers and suppliers along with the ability to associate discussions with documents and transactions. BusinessChat allows buyers and suppliers the flexibility to resolve a single issue in real time or maintain ongoing discussions over the life of the transaction.
Also notable is the introduction of sales order drop ship capabilities, which allow buyers visibility into orders shipped from suppliers directly to customers. Suppliers are able to generate pick, pack and post goods issue numbers associated with sales orders in their back office systems. Buyers are able to view the sales order pick, pack, and delivery confirmation data, all managed and displayed within the OneSCM management console.
Among the ongoing enhancements within OneSCM's procure-to-pay (P2P) function are new buyer and supplier mobile (smart device) transactions to create a more continuous procurement workflow. In addition, OneSCM now offers a more robust AP workflow with new features such as 4-way invoice matching.
"As companies continue to expand and outsource, trading partner communication and workflow are becoming more critical to supply chain optimization," said Donna Fritz, VP of Marketing & Product Management, TAKE Supply Chain. "This latest release of OneSCM accelerates and enhances critical communication and trading partner interaction through instant, document-enabled chat and mobile devices."
About TAKE Solutions
TAKE Solutions, Ltd. [BSE: 532890 | NSE: TAKE] is a leading global business technology company that delivers world-class software and services solutions for more than 400 leading companies. In the Supply Chain domain, TAKE's OneSCM® and GeminiSeries® product and suites include distinct technology with embedded IP that delivers expanded supplier collaboration, enterprise mobility, material tracking and workflow automation. In the Life Sciences domain, TAKE offers IP-based software and extensive knowledge-based solutions to enable efficient clinical, regulatory, safety and commercialization processes.
Headquartered in Chennai, India; TAKE drives its Global Delivery Center from India and the Middle East. U.S. headquarters are located in Princeton, New Jersey, with the Supply Chain Domain Excellence Center in Austin, Texas. For more information on TAKE Supply Chain, please visit http://www.takesupplychain.com. For more information on TAKE Solutions, please visit http://www.takesolutions.com.