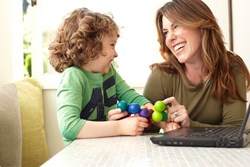 While a few snow days here and there don't fully compare to what a student can "forget" over the summer, time off from class in the winter can also result in learning loss or 'snow day brain drain.'
(PRWEB) December 17, 2013
We all know about Summer Learning Loss, but what about learning loss over winter breaks? How can parents ensure that their students take advantage of days off from school to reinforce what they have already learned and maybe even learn more?
A conservative estimate of lost instructional time in the summer months is roughly two months or approximately 22 percent of the school year, according to the authors of a report from the National Summer Learning Association. In the winter months, two consecutive snow days off, by extension, could result in up to 12 hours of learning melting away.
"While a few snow days here and there don't fully compare to what a student can "forget" over the summer, time off from class in the winter can also result in learning loss or 'snow day brain drain.' For parents it's a good time to think like a teacher and become what we call a 'learning coach'," said Dr. Margaret Jorgensen, K12's Chief Academic Officer.
The good news is you may have more tools at your fingertips than you may think. What can you do to help keep your kids' minds sharp when skating rink road conditions close school? Industry leader K12 offers parents 5 tips for keeping those young minds fresh when schools close due to wicked winter weather:
1. Relish reading time. Reading as a family is a great way to bond and a terrific way to encourage critical thinking and inspire imaginations. And what could be cozier than snuggling up with your child and a book during bad weather? "From family reading time to regularly going to the library, reading is critical to your child's academic success," said K12's Director of Primary Literacy Dr. Kristen Kinney-Haines. Download grade-appropriate reading lists (and find fun reading-readiness games) at the K12 Activity Center.
2. Get Some Serious App-titude. Given today's increasingly wired generation of cyber-savvy students, it's little wonder that the use of gaming technology is so embedded in learning activities. Meet your kids halfway by luring them away from video games with learning apps that are also fun to play. K12 worked with esteemed educators and cognitive scientists to develop its line of engaging mobile apps that let kids practice counting, spelling and other skills. Many of them are available free through iTunes, Google Play and the Amazon Appstore or access a list at k12.com/mobile-apps
3. Sharpen math skills in the kitchen. Whether they're making cold weather favorites such as hearty stews or soups or baking some tasty treats, kids can hone their math skills in the kitchen. From measuring ingredients and using multiplication for recipes, kids can practice math and make something delicious at the same time.
4. Parlez-vous Français? Children can use their time off to practice a variety of languages. PowerspeaK12 offers several online programs, including French, German, and Spanish, so you don't even have to brave the weather to bring a touch of the exotic home. "Learning a world language at an early age can not only enhance your child's linguistic ability, but their cognitive and creative skills, as well," said Dr. Jorgensen. You can also check out a variety of world language CDs at your local library.
5. Dabble in the Arts and Sciences. Whether they enjoy drawing or painting, kids can sharpen their brains while displaying their creative side. According to Education.com, "Art involves problem solving, thinking, and using shapes to express thoughts, ideas, and feelings." Or, let them engage more in science to keep the winter blahs away. K12 offers a variety of free age-specific online lessons so your kids can take a virtual submarine trip to the depths of the ocean or learn about everything from Stop-Action photography to the Anatomy of a Chicken Wing
.
About K12 Inc.
K12 Inc. (NYSE: LRN) is the nation's foremost provider of proprietary technology-powered online solutions for students in pre-kindergarten through high school. K12 has partnered with more than 2,000 school districts and has delivered more than 4 million courses over the past decade. K12 provides curricula, academic services and learning solutions to public schools and districts, traditional classrooms, blended school programs and families. K12 works with more than 5,000 teachers across the U.S. – the largest network of online school teachers in grades Kindergarten through 12.
The K12 program is offered through K12 partner public schools in more than two-thirds of the states and the District of Columbia, and through private schools serving students in all 50 states and more than 110 countries. More information can be found at http://www.K12.com