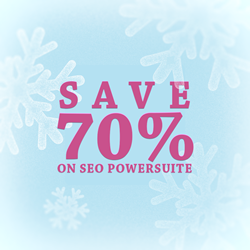 Now it's the right time to get the industry's most powerful SEO toolkit at only 1/4 of its price.
Minsk, Belarus (PRWEB) December 17, 2013
Link-Assistant.Com, the leading innovator of software solutions specializing in search engine optimization (SEO PowerSuite) and social media marketing (BuzzBundle), invites everyone to decorate a Christmas tree and share in some Christmas cheer.
Link-Assistant.Com's Christmas sale is to start on December 17, and will last up to and including December 19. During the sale SEO PowerSuite tools will be available at a dramatically reduced price (up to 70% off).
Also, Link-Assistant.Com made their annual results public, summarized all the major achievements of 2013, and announced what their users should expect in 2014.
*What has been achieved in 2013*
During this year Link-Assistant.Com's tools got 50 advanced new features, including:

the largest backlink index in SEO SpyGlass;
cutting-edge PPC research features in Rank Tracker;
new anti-CAPTCHA facilities;
and dozens more.
Besides, a wide range of implemented performance and usability improvements resulted in making the tools 80% faster.
And undoubtedly, the most important event of the year was the release of a new fully-revamped and redesigned SEO SpyGlass.
"2013 has been a make-or-break year for the SEO industry. Google overhauled its core algorithms, which had a tremendous impact on the whole sphere of search engine optimization," says Viktar Khamianok, CEO at Link-Assistant.Com.
"Our professionals were doing a hard job throughout the year. And they not only managed to successfully adjust the software to all the changes in search engine environment, but also spared time for innovations and developing a line of next-generation SEO software," continues Viktar.
*What are Link-Assistant.Com's plans for the near future*
Link-Assistant.Com announced that the rest of SEO PowerSuite's tools (Rank Tracker, Website Auditor and LinkAssistant) will see a new life soon.
"Next year will bring plenty of new opportunities to all SEO PowerSuite users. The massive developments and additions aimed at improving our users experience and the software functionality are down the road," says Link-Assistant.Com's CEO.
"So if you don't have SEO PowerSuite tools yet, now it's the right time to get the industry's most powerful SEO toolkit at only 1/4 of its price," sums up Viktar.
*About Link-Assistant.Com Christmas Sale*
SEO PowerSuite Christmas sale starts today and will last for 3 days.
Customers can choose the 'do-nothing' option and simply grab SEO PowerSuite at 55% off.
Or they can unlock a special discount by "decorating" a Christmas tree with their social media mentions. When done, the toolkit will be available at 70% off. The lowest possible prices are as follows:
SEO PowerSuite Professional - $149
SEO PowerSuite Enterprise - $359
Have fun "decorating" Christmas tree and get maximum discount at http://www.link-assistant.com/christmas-2013.html.
Keep abreast of the industry news - connect to Link-Assistant.Com on Facebook fb.me/LinkAssistant, Twitter @LinkAssistant or Google Plus gplus.to/LinkAssistant.
*Defining the world standard SEO software*
Link-Assistant.Com is a global leader in developing high-end solutions for search engine optimization and social media marketing. The company's products include comprehensive, user-friendly and cost-effective SEO and SMM tools designed to address the specific needs of every internet marketer. SEO PowerSuite and BuzzBundle got a stamp of approval from thousands of bloggers, SEO enthusiasts and SEO agencies worldwide.
All company's products are also available in the free version.
For more information, visit the company's website: Link-Assistant.Com.