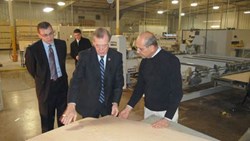 Saying yes to Michigan, being willing to make an impact on the local economy and hiring people who are capable and ready to do the job is exciting. Congressman Tim Walberg
Hillsdale, MI (PRWEB) December 21, 2013
Hartzell Veneer Products (HVP) was honored to have Congressman Tim Walberg visit their new Hillsdale, Michigan plant. During the visit, the management team met with the Congressman and gave him an overview of the Veneer Industry and their long-term business strategy. After the business meeting, the Congressman was given a tour of each of the manufacturing departments (Edge Banding, Face and Laminated Products). At the conclusion of the visit, the Congressman spoke to the HVP employees and outside guest. His speech focused on building a healthy economy, encouraging educational opportunities and workforce development, moving America towards energy independence to lower costs and working to make heath care more affordable. Congressman Walberg said of Hartzell, "Saying yes to Michigan, being willing to make an impact on the local economy and hiring people who are capable and ready to do the job is exciting." Stephen Lucas, Vice President of Human Resources, said, "Our relocation to Michigan has proven to be a positive impact on our business. We have been able to expand our manufacturing footprint which has allowed us to better serve our customers." There were outside guests who represented the City of Hillsdale and the state of Michigan who attended the event.
In June 2013, HVP relocated its business from Benton, AR to Hillsdale, MI. The move has allowed the business to improve its products, service and order delivery time, as the new location is closer to its customers and suppliers. The company is also making significant investments to position itself for future growth. Investments have been made in machinery, which has allowed the company to provide its face customers with best in class joint and face construction capabilities. The expansion of a new 35,000 square foot building gives the company the needed capacity to meet its growth initiatives.
For more than 138 years, the family owned Hartzell companies have been synonymous with top of the line quality and industry altering innovations. The company displays its dedication and extensive knowledge within each of its divisions – Hartzell Air Movement, Hartzell Hardwoods, and Hartzell Veneer Products. Hartzell Air Movement currently encompasses both axial and centrifugal fans built for longevity within the rigorous requirements necessary for industrial environments. Hartzell Hardwoods is known throughout the world as a leading producer of fine walnut lumber as well as top quality thick stock red and white oak lumber. Hartzell Veneer Products utilizes the latest advances in splicing technology to produce high-quality veneer products from over 100 different species resulting in a product that provides customers with true value. Throughout history, all three Hartzell affiliated companies contain remarkable integrity, dedication, and innovation which will remain a staple in our corporate culture of quality, value, and commitment.
If you would like more information on Hartzell Veneer Products, please visit http://www.hartzell.com.