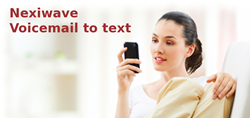 Our fully automated carrier grade Voicemail to text service is proven again in accuracy, speed and scalability.
(PRWEB) December 18, 2013
Nexiwave, a speech technology provider, has been selected by FluentStream Technologies for its Voicemail to text service. Nexiwave's fully automated Voicemail to text service converts voicemail to text. The transcribed messages are then delivered to users via SMS or email.
"Voicemail to text is a simple yet powerful idea. It brings significant time saving for business phone users," said Ben Jiang, Co-Founder and CEO of Nexiwave, "With years research and development in speech technology, our fully automated carrier grade Voicemail to text service is proven again in accuracy, speed and scalability."
FluentStream Technologies, provides a cloud based business phone service, will add Nexiwave Voicemail to text service to its existing Voicemail to email feature. The Voicemail to text feature will enable FluentStream users to read their voicemails in text anywhere, anytime.
"Our partnership with Nexiwave to deliver Voicemail Transcription to our customers helps us further the capabilities on our award winning FluentCloud platform - to deliver a fantastic set of cloud communications tools to our customers. Voicemail Transcription gives our customers instant access to content when and where they need it," said Josh Elson, President and CTO of FluentStream.
Nexiwave Voicemail to text service is powered by Nexiwave's state-of-the-art speech recognition and keyword spotting engines. With critical features such as highly accurate transcript, 99% phone number recognition accuracy and one-minute turnaround, Nexiwave ensures the quality of service that large enterprise customers demand.
About FluentStream
Located in Downtown Denver, FluentStream Technologies provides a cloud-based phone solution to businesses across the U.S. and Canada. FluentStream focuses on advanced software-driven communication features and guaranteed reliability backed by a 99.99% up-time Service Level Agreement. FluentStream never requires a contract for their cost effective FluentCloud platform, and instead relies on a solid customer experience to maintain customer relationships.
About Nexiwave
Started in 2008, Nexiwave believes voice communication, the most natural way of communication, is greatly under used in the text dominated IT industry. Nexiwave focuses on speech technology development and applications. Nexiwave released its first Voicemail to text service in 2010. Today, Nexiwave technology is improving the productivity for hundreds of thousands of users in the US, Canada and worldwide. For more information, please visit Nexiwave.com.