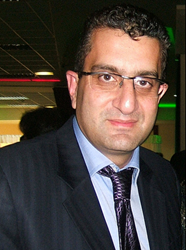 This is a family practice and we look after the dental health of all members of the family
(PRWEB) December 19, 2013
Dr. Tariq Drabu is a leading dentist and renowned specialist. He spoke recently from his practice, The Langley Dental Practice, in Middleton, Manchester. Talking about Mouth Cancer Action Month, he said, "Many of my colleagues, and my staff and I, supported Mouth Cancer Action. This was a month of activities where thousands of health professionals all over the UK joined forces to encourage their own local community to attend screenings for mouth cancer. The British dental community were also fully on board, supporting the project fully."
Dr. Tariq Drabu, dentist and educational mentor for over 25 years, is dedicated to doing all he can to prevent further unnecessary deaths as a result of mouth cancer. He said, "Cases of this painful and debilitating disease have sadly increased by over 50 percent in fewer than fifteen years! This is a shocking statistic. I will support any activity my team and I can be part of, which will address this situation, and help to educate people about the dangers of mouth cancer, and about practicing good oral hygiene."
Tariq Drabu, dentist and teacher, was referring to his own team's recent activities, and to an article recently published by the DBG website. The article, which gives more information about Mouth Cancer Action month, can be read here.
Tariq Drabu, leading dentist and teacher, is much admired and respected for his tireless dedication and commitment to preventing mouth cancer. He leads a wonderful team of highly qualified and dedicated staff in his Langley Dental Practice, and they too are behind him, supporting him in his mission to continue educating people about good oral health. He told us, "This is a family practice and we look after the dental health of all members of the family. As such, it is our responsibility to ensure that every care and effort has been taken to improve the oral health of our patients, and to prevent serious oral health issues from developing or going undiagnosed."
The month of activities was run by the British Dental Health Foundation (BDHF). This year's month long campaign was designed to focus upon the importance of early detection of mouth cancers. As the owner of a leading Manchester dental practice, Tariq Drabu is dentist to patients who have previously developed symptoms of mouth cancer.
He truly understands first-hand the damage and pain this disease can cause. He said, "By attending regular check-ups with your dentist, and by going for screening, early detection can save lives! I am so passionate about this subject. Sadly over 25 years, my colleagues and I have seen too many people suffer. We are determined to do all we can to slow down the instances of this disease. As part of our routine dental checkups we are always examining patients for any signs of mouth cancer. We also record smoking and alcohol consumption and issue preventative advice as necessary."
The article shared shocking statistics collated by Cancer Research UK which indicates that in 2010 over 6,500 people were diagnosed with an oral cancer and sadly, over 2,000 patients died from the disease in 2011. Tariq Drabu, renowned dentist to hundreds of families in Manchester, understands the pain and upset this type of diagnosis can cause.
He closed by saying, "Studies by our leading scientific researchers, and by Cancer Research UK, show that early detection of mouth cancer can dramatically improve survival rates by as much as 90%. This is a figure that cannot be ignored. People need to know, and understand how to keep themselves healthy, and address any problems as soon as they appear."
About Dr. Tariq Drabu
Dr. Tariq Drabu is a highly experienced and well known Manchester dentist and GDC registrant. He is accredited as a Specialist in Oral Surgery by the General Dental Council. Dr. Tariq Drabu practices at his Langley Dental Practice in Manchester. Dr. Drabu is a leading name in dentistry, with 25 years' experience in both general practice and hospital dentistry. Dr. Tariq Drabu is also the Clinical Lead Dentist for the Oral Surgery Clinical Assessment and Treatment Services at NHS Heywood, Middleton and Rochdale. He is a specialist staff member at The UCLan Dental Clinic