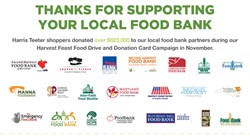 Charlotte, N.C. (PRWEB) December 17, 2013
Harris Teeter would like to extend a sincere thank you to its generous shoppers who donated over $624,000 to local food banks during the company's Harvest Feast Food Drive and Donation Card Campaign. The campaign ran during the month of November in all Harris Teeter stores, and customers purchased $1, $5 or $20 donation cards.
Harris Teeter recognizes that hunger affects millions of Americans including hard-working adults, children and seniors, and the Company offered its customers a convenient way to help fight hunger through participation in the donation card campaign. The financial and in-kind contributions made by Harris Teeter customers will go a long way toward helping food banks and food pantries in Harris Teeter's marketing areas supply food and grocery products to the communities they serve.
Harris Teeter would again like to thank its shoppers for helping its local food bank partners continue to make progress in the fight against hunger.
For more information about the food banks that were involved in the donation card campaign, please visit the Community section of harristeeter.com.
To view the company's Thank You video, please click here.
Harris Teeter would also like to thank its media partners Cox Cable, WCSC-TV, WGHP-TV, WBTV, WILM and WRAL for assisting with promotion of the food drive and donation card campaign.