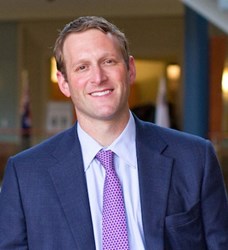 "Andy embodies everything we set out to find. He is a warm, passionate, educational leader of unquestionable integrity who will inspire and lead Peck into the next chapter of its exciting history."
Morristown, NJ (PRWEB) December 19, 2013
The Peck School Board of Trustees is pleased to announce that Andrew C. Delinsky has been appointed as the eleventh Head of School in Peck's 121-year history. Mr. Delinsky will begin his term July 1, 2014, when Interim Head of School Elizabeth P. Riegelman completes her year-long tenure; succeeding tenth Head of School John Kowalik. The Board's unanimous decision to appoint Mr. Delinsky was based on the enthusiastic endorsements of the Search Committee, the Advisory Committee, and members of the Peck community.
Mr. Delinsky brings seventeen years of independent school experience as a teacher and administrator to Peck. He is currently the Assistant Head of School and Upper School Principal at The Bullis School, an independent day school for grades two through twelve in Potomac, Maryland. While at Bullis, Mr. Delinsky has helped implement a new STEM (Science, Technology, Engineering, and Math) program; "Beyond the Books," an initiative to promote student character education and personal development; and an entrepreneurship program that brings real-world small business development to students. His passion for excellence in teaching and experience in planning and implementing 21st century curriculums is evident throughout his long history as an educator and scholar.
"I am deeply honored to be named Peck's eleventh Head of School and extend my humble gratitude to the search committee and the Board of Trustees for entrusting me with the responsibility of leading such a robust community," remarked Mr. Delinsky. "During the search process, everyone I met shared a genuine passion and an infectious enthusiasm for the school. My goal is to build on that and on the gifted leadership of John Kowalik and Penney Riegelman to continue nurturing Peck's ever important mission of ensuring that the knowledge we pass to our children is guided by values. In the coming weeks and months, I look forward to meeting many of you and to learning more about Peck and its history as we carve its bright and exciting future together."
Mr. Delinsky earned his Masters of Arts in English at the prestigious Bread Loaf School of English at Middlebury College in 2003, following his Bachelor of Arts in English from Franklin & Marshall College in 1997. In 2013, Mr. Delinsky completed a Master of Science in Leadership at Georgetown University's McDonough School of Business, where he was the valedictorian of his class.
The Peck School is honored and thrilled to welcome Mr. Delinsky, his wife Julie [Nelson] Delinsky, and their children Eve and Finn to the community. Mrs. Delinsky is currently the lower and middle school counselor at Bullis (grades two through eight) and is the Varsity Field Hockey coach.
The selection of Peck's next Head of School is the Board's highest responsibility, and was approached with great care and diligence. Since last spring, a board-appointed Search Committee, led by co-chairs Jamie Foley and Keeneh Comizio, and Advisory Committee, have engaged in a tailored, thorough, and national search guided by the topnotch consultancy firm Spencer Stuart. The process led to intensive interviews with several of the nation's most qualified leaders in independent school leadership.
"Andy embodies everything we set out to find. He is a warm, passionate, educational leader of unquestionable integrity who will inspire and lead Peck into the next chapter of its exciting history," remarked Search Committee co-chair Keeneh Comizio. "Andy models Peck's mission of 'knowledge guided by values,' and we are thrilled our search has led us to such a terrific choice."
Since 1893, The Peck School has prepared graduates to succeed in secondary school and to lead healthy, productive, and principled lives. Through a commitment to character formation and an inspirational and rigorous academic program, Peck's independent, coed, K-8 curriculum strives to teach students life skills, consideration of others, and a lifelong love of learning. To learn more about Peck, visit http://www.peckschool.org.