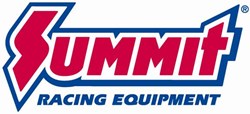 Tallmadge, OH (PRWEB) January 03, 2014
Switch from carburetors to EFI the easy Holley way and enjoy better drivability and throttle response. Get a Terminator, add a 4150-style carbureted intake manifold and a compatible fuel delivery system, and presto--EFI in an afternoon.
The Holley Terminator EFI Engine Management Systems feature:

ECU self-tunes instantly to deliver the perfect air/fuel mixture in real time for optimized fuel economy and power—no laptop required
950 cfm throttle body with computer-designed venturis—uses the same throttle body air entry area design used on Holley's NASCAR Sprint Cup Series EFI
Patent-pending annular discharge fuel ring for maximum flow and optimum fuel atomization—no restrictions or delay in fuel flow like booster designs
80 lb./hr. fuel injectors support from 250-600 horsepower
Ignition timing control on engines with small cap HEI and Ford TFI distributors (requires adapter)
Serviceable sensors integrated into throttle body and pre-wired for a simple one-click connection
Connections for Ford, GM TH350, and 700R4 transmissions
ECU can be easily updated to Holley HP ECU specs with a FREE online software download—Terminator ECU can then be used for LSX, boosted, nitrous, and many other applications
Trouble-free performance with today's fuels including ethanol—eliminate vapor lock and fuel varnish problems
The Holley Terminator EFI Engine Management Systems come with MAP, oxygen, TPS, and IAT sensors, IAC motor, fuel rails, wiring harness, and handheld calibration module.
Summit Racing also has matching Terminator EFI Fuel System Plumbing Kits to feed your Terminator EFI system. The kits include an electric fuel pump, billet pressure regulator, two metal fuel filters, and a choice of Earl's Perform-O-Flex, Pro-Lite 350, or Super Stock hose.
Summit Racing Equipment
http://www.SummitRacing.com
1-800-230-3030