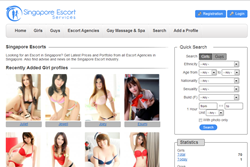 Singapore, Singapore (PRWEB) December 20, 2013
Singapore Escort Services, the leader in escort news and escort agency classifieds in Singapore, is happy to welcome new escorts to sign up on its new mobile enabled classifieds platform.
"Social Escorts are not prostitutes. The main bulk of clients are foreign professionals, senior managers, C-class executives and wealthy businessmen who want social escorts to accompany them to social events, corporate meetings or casino games at one of Singapore's integrated resorts at Marina Bay or Sentosa," said the John, a senior manager at Sexy Ladies Escort Agency.
Good looking is a must, but It is not sufficient to be just good looking. A successful social escort, both female and male escorts have to familiarize themselves with local culture and places of attractions so that they can double up as personal tour guide for their high-net-worth and well-travelled clients.
With the launch of Singapore Escort Services' new mobile classifieds platform, social escorts can now look forward to building more awareness about their services both on computers and users mobile phone. Mobile phone users will be able to select the most suitable escort by physical appearance, body type and even spoken language that they are looking for in addition to many other attributes they may find important to them.
Singapore-Escort-Services.com does not take a cut of the escort's earnings as commission nor do they promote sexual services. Singapore Escort Services is an online classifieds directory that allows both male and female escorts in Singapore to list their services.
Visitors to the mobile phone version of Singapore-Escort-Services.com can filter social escorts through a list of criteria describing his or her dream social escort. Upon completing his search, the visitor will get a call or an email (whichever he/she prefer) within the same day from the social escort.
"Good and high-end social escorts across the world, continues to be in demand as Singapore is increasingly promoted and seen as a high-end luxury lifestyle location for wealthy individuals, in the ranks of Monte Carlo in Las Vegas. These affluent travellers want more than a romp in Geylang, they want an escort who can communicate and engage them intellectually," says Dominic, Manager at Singapore Social Escort Services.
Asiaone News: http://www.asiaone.com/print/News/AsiaOne+News/Singapore/Story/A1Story20100601-219448.html.