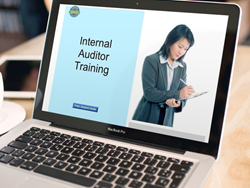 The scope of the training is extensive and gives the trainee all the tools necessary to develop an effective internal auditing strategy. Whether you have an existing program or are starting from scratch, this training will strengthen your program.
Minneapolis, MN (PRWEB) December 19, 2013
SQF Online training has become very popular because of the convenience and consistency of the training. With today's learning programs, online training can offer a more interactive approach than classroom training can provide. This Online SQF Internal Auditor Training Course provides an entire set of documents and records from a fictional company, "Mandy's Vanilla", for the student to audit.
Because of online learning technologies the student is able to perform each step of the audit, from planning the audit and preparing checklist to asking questions of the Mandy's Vanilla employees, and all with feedback provided all along the way. This scenario is too complex to present in a classroom of participants, but with the online session, the student can experience their first internal audit through this interactive experience and feel prepared and confident for their audits at your facility.
Training packages allow you to train your entire audit team. Each auditor can work though the training at their own pace, ensuring that each will have a thorough understanding of the material. A final test measures the effectiveness of the training. Once the final test is successfully completed, the student can access their training certificate.
About Vinca, LLC
Vinca, LLC provides online training that has helped hundreds of companies prepare for certification since 2001. Vinca's goal to provide clients with a Food Safety Management System that is effective, easily maintained and provides for the production of safe product.