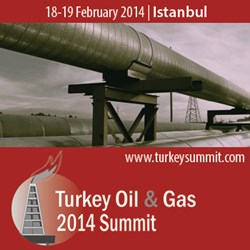 It's an IRN summit!
London, UK (PRWEB UK) 24 December 2013
With pipelines of huge significance and very promising exploration potential, Turkey is firmly in the spotlight of the oil and gas industry. Europe's energy security is depending on the strategically planned and constructed pipelines that will transfer oil and gas from naturally rich countries such as Azerbaijan, Iraq, Israel, Kazakhstan and numerous others through Turkey.
The Turkey Oil & Gas 2014 Summit, organised by IRN on 18th-19th February in Istanbul will include a special feature on the pipeline and transportation routes of the country. Dr. Reha Aykul Muratoglu, the Head of Transit Petroleum in the Pipelines Department at the Ministry of Energy and Natural Resources in Turkey and Mr. Ibrahim Arinc, the Deputy General Manager of BOTAS Petroleum Pipeline Corporation are only some of the key industry figures of the country giving insights with this regards.
Mr. Baris Sanli, Deputy General Director at the Directorate General of Energy Affairs at the Ministry of Energy, Mr. Selami Incedalci, the General Manager at the Directorate of Petroleum Works at the Ministry of Energy and Natural Resources and Mr. Nusret Comert, the Chairman of Shell Enerji as well as Mr. Selami Erdem Uras, the Country Manager and Resident Representative at TransAtlantic Petroleum will be some of the key speakers of the summit.
Apart from being an energy transportation hub, Turkey is now launching new explorations in the underexplored country's regions, such as the Black Sea, and is now open to new investments with a certainly attractive new petroleum law and favourable fiscal terms. Furthermore, it is believed that there is a huge potential for shale gas, and Turkey has turned to hydraulic fracturing to extract gas from shale deposits in the country.
The upcoming Turkey Oil & Gas 2014 Summit, will be a high level platform for an in depth discussion of all the above matters for senior level executives from all over the world interested in this exciting new oil and gas frontier.
The Turkey Oil & Gas 2014 Summit is sponsored by Akin Law Office, the law firm Hergüner Bilgen Özeke and supported by the Turkish Association of Petroleum Geologists, the International PPP Platform – Turkey and the Romanian National Committee of the World Energy Council.
More information can be found on the website: http://www.turkeysummit.com.