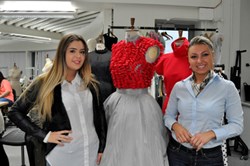 Study or work abroad encourages the development of unique skills which will help them get a head start in an increasingly competitive labour market.
Hornchurch, Greater London (PRWEB UK) 19 December 2013
The college in Hornchurch, Greater London, has been successful in the selection process for the new Erasmus charter in the new European framework for Education and Training (2014-2020).
The European Union's Erasmus+ programme will continue to enable college staff and students to benefit for the next seven years from funded learning and work experience grants across 33 European countries as a recognised part of their work or study in the college.
In the last three years through funding obtained under the current EU framework, the college has established strong partnerships with colleges and universities across Europe.
This has allowed Higher Education students at Havering College to receive grants and carry out studies in other parts of the world.
Globetrotting students include HND Fashion student Jessica Gilder who is excited at the prospect of heading to the world's fashion capital, Milan, in March 2014.
Jessica, 20, from Hornchurch, said: "Fashion is my passion. Studying at Nuova Accademia di Belle Arti in Milan is a fabulous opportunity as it gives me the chance to experience new ways of designing, garment construction, the different use of colours and materials and different creative approaches.
"I am looking forward to picking up new abilities in a different environment. I will apply the benefits of this phenomenal experience in my future career as a designer. The world of fashion is very competitive and I believe that being more international will allow me to gain the confidence I need to work in fashion globally."
Havering College staff have also enhanced their personal and professional skills students through participating in teaching or training activities funded by Erasmus.
Havering College Assistant Principal, Faculty of Enterprise Sally MacPherson said: "Being able to participate in the new Erasmus+ framework is fantastic accomplishment for the college. Time in college is not only about skills training and gaining new knowledge but also about helping the young generation to reach their full potential as individuals."
Havering College International & European Operations Manager Nadia Bonnichi said: "Our learners deserve the opportunity through studying at Havering to reap the benefits of not only a high quality education but of a European experience as an added value. Study or work abroad encourages the development of unique skills which will help them get a head start in an increasingly competitive labour market.
"I work closely with all students and staff who have already participated in EU projects and am delighted to see first hand that they have come back home transformed into more mature, independent, self-confident individuals with new outlook on life and increased knowledge and in their professional field.
"I am excited of the new dimensions of Erasmus+ as it opens new doors to enhanced co-operation across sectors, increased emphasis on innovative approaches and meaningful, sustainable outcomes for all participants especially for the young learners who would have never even considered doing something of the sort."
For further information on Erasmus+ opportunities at Havering College of Further and Higher Education, call Nadia Bonnichi on +44 (0) 1708 455 011 ext. 5029 or email nbonnichi(at)havering-college(dot)ac(dot)uk.