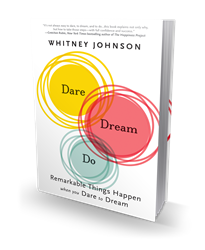 DARE to boldly step out, to consider disrupting life as you know it.
Boston, MA (PRWEB) December 18, 2013
Whitney Johnson dared to dream when she began her Wall Street career as a secretary. With courage and persistence, she invested in her personal and professional pursuits. After rising through the ranks from office administration to high-finance analytics, she has inspired others to chase their dreams.
From her popular Harvard Business Review blog posts to her motivational TedX Talk, Whitney has encouraged women in particular to make their dreams a reality. Her belief is that people can each achieve greater happiness when focusing on their dreams and on the other people in their lives.
Dare, Dream, Do: Remarkable Things Happen When You Dare to Dream (Bibliomotion, 2012) will equip readers with the necessary tools to identify and pursue their dreams. Using personal accounts from real women, Johnson presents a three-step model:
DARE to boldly step out, to consider disrupting life as you know it.
DREAM to give life to new possibilities.
DO – readers are encouraged to take the plunge and execute their dreams!
This practical framework will inspire readers to recognize their true potential and strive for new possibilities. From the book, reader will learn lifelong lessons in self-leadership like how to:
-Make meaning of life
-Show children how to dream
-Establish deeply-held beliefs
-Embrace discovery
-Frame the past, to predict the future
Click the link to download a sample chapter from Dare, Dream, Do.
Join Whitney and other inspiring speakers at the Time Out for Women conference in Layton, Utah on February 22nd. Whitney will lead a discussion on "The Power of Dreaming." A list of her other upcoming speaking engagements can be found on her events page.
Praise for Dare, Dream, Do:
"Dare, Dream, Do should be required reading for anyone with a forgotten wish, a pie-in-the-sky fantasy or a quiet dream hidden in their heart. In other words—everyone."
—Barbara Corcoran, Investor, ABC's reality show, Shark Tank
"Rethink the fundamentals of your life. Disrupt your status quo. That's Whitney Johnson's invitation (and challenge) to each of us in Dare, Dream, Do. I urge you to accept her invitation."
—Clayton M. Christensen, professor, Harvard Business School and best-selling author
"Whitney Johnson has crafted a wonderful, eloquent and accessible step-by-step prescriptive on how to uncork the bottomless bottle of hidden dreams."
—Craig Hatkoff, Founder of the Tribeca Film Festival, and co-author of the New York Times bestseller, Own and Mzee
"Dare, Dream, Do belongs in every success toolkit. Business leader and master storyteller, Whitney Johnson shows how remarkable things happen when we dare to claim our strengths, own our dreams, and do what we're meant to do. A fabulous guide for business and for life."
—Liz Strauss | business strategist and author of Successful-Blog.com
"Whitney Johnson maps out a masterpiece for women that is filled with wisdom, strategies, fascinating stories, and all that matters most in life. Dare, Dream, Do is an incredible book. I want to give this book to every woman I know."
—Lolly Daskal | President and Founder of Lead From Within: Heart based Leadership for Work and Life