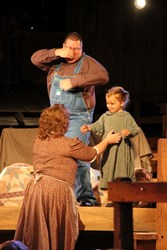 Tickets to Swamp Gravy are sure to lift the spirits of even the most glum person on any Christmas list.
Colquitt, Georgia (PRWEB) December 18, 2013
With only a week until Christmas, time is running short to find the perfect gift for those hard-to-buy for people on everybody's list. The answer is a few short clicks away: visit Swampgravy.com, the internet home of Georgia's Official Folk Life Play, and give the whole family the gift of an experience they'll cherish for a life time: tickets to see Swamp Gravy, or even to laugh and sing along with Colquitt's Own Variety Show, "May-Haw!"
"Swamp Gravy: Brothers and Sisters" will return to the stage for the second half of its 2-month run March 7, 2014. " The production features a series of vignettes celebrating the relationship between siblings and the joys, complexities, and occasional heartaches that come it. "Brothers and Sisters" enjoyed instant success when it first premiered on the Cotton Hall stage in 1999, and was brought back this past October to become the highest selling "Swamp Gravy" in recent years. This classic production was the first script from local playwright Debra Jones, who had been a cast member and story gatherer with the production from its beginning in 1992. She would continue as the playwright for Swamp Gravy until 2005, penning six scripts for the project, all of which were well received by locals and "out of town" guests alike. The revival will feature direction from Katherine A. Willis, music by Karen Kimbrel, Charlotte Phillips, Jennifer Roland, and Debbie Sloan, choreography by Karen Beyer, lighting by Thomas Rodman, and a cast of more than 100 local volunteers. "Swamp Gravy" runs March 7-29, 2014 with shows Fridays at 7:30 and Saturdays at 2:00 and 5:30.
"May-Haw," Colquitt's Own Variety Show, combines corny humor with toe-tapping country and soul-warming gospel music. This production in 2 hours of non-stop fun, sure to lift the spirits of even the most glum of family members. The production runs April 18, 19, 25, and 26, 2014 with shows Fridays at 7:30 and Saturdays at 2:00 and 5:30.
Regular-priced tickets are $26.56 for Swamp Gravy, and $15 for May-Haw. Group pricing is available for Swamp Gravy. Tickets for all shows are available at swampgravy.com or by calling 229-758-5450 Tuesday-Friday. Fans can check out Swamp Gravy of Facebook and Twitter to keep up-to-date on the latest discounts and promotions.