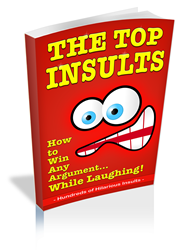 Hundreds of the freshest insults sure to give you an advantage in any situation.
Ottumwa, IA (PRWEB) December 18, 2013
Full Sea Productions, best known for its comedic mobile video games including 'BusterBall' and 'Buster Dunk', has announced the publication of their new eBook containing many snarky one-liner insults taken directly from their games.
The book, 'The Top Insults', contains hundreds of great one-liners designed to appeal to people who enjoy sarcasm at its finest.
According to Full Sea Productions, players of the BusterBall game have expressed a desire for a convenient reference guide to the comedic lines that are heard throughout the top rated game. 'The Top Insults' book makes that information available to everyone.
The insults and comebacks in the book have consistently earned the BusterBall mobile game five star reviews from its players on the app store and the book is following in the game's footsteps.
Some of the lines made famous in the game and found in the book include: "I wouldn't Pee in Your Ear if your Brain was on Fire!", "You're about as useful as a windshield wiper on a goat's butt.", and "Let's play horse. I'll be the front end and you just be yourself."
'The Top Insults' book is available from Amazon and can be downloaded to any Kindle reader.