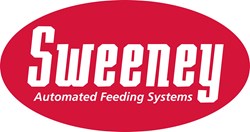 Boerne, TX (PRWEB) December 18, 2013
Sweeney Feeders is pleased to announce the launch of their new website design for http://www.sweeneyfeeders.com. Sweeney Feeders is a 40 year family-owned company that is determined to better serve their loyal customer base and to build a stronger online presence with a more effective, modernized web design. Sweeney Feeders is a leading provider of automatic deer, fish, koi, and wildlife feeders. The brand is also renowned for their highly accurate digital timers which can optimize feedings, saving money and effort for their customers.
The new website features a modern design and simple navigation for an uncomplicated user experience. The Sweeney Feeders website also provides customers with high resolution photos of all products and feeders, comprehensive product pages, updated product descriptions, and highlights customer testimonials. Sweeney Feeders swears by their "customer comes first" motto since the first day of opening their doors for business. Welcoming and dependable, Sweeney Feeders seeks to implement a responsive user interface to streamline customer purchasing behavior and deliver the best service they can offer to their users.
Customers are now able to create a more reactive and refined personal account with the new Sweeney Feeders website. With a registered account, customers can manage their purchase orders, track their order history, and organize future purchases, with secure and fast processing.
Along with a new functional and contemporary design, the company has also complemented the new look with a useful and informative blog, ensuring they are providing thorough, professional advice to their users. Sweeney Feeders has also enhanced the contact page, to make certain that they are readily available to serve their customers.
To see the new website design, please visit http://www.sweeneyfeeders.com.
About Sweeney Enterprises:
The Sweeney family built their first timer over 35 years ago and, with that timer, has established a constant determination to build reliable products that suit their customers' needs. With sharp focus on excellent customer service and quality products, the foundation of Sweeney Enterprises, the company is now firmly established as a market leader of feeding equipment for wildlife and fish.
Sweeney Feeders is a 40 year-old, family-owned business that designs, builds and sells quality feeding equipment for animals. Sweeney Feeders, over the years, has become the most valuable local provider of feeding equipment in the market.