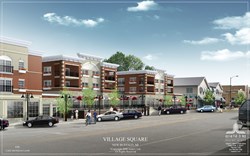 New Buffalo is a growing area rich with recreational, educational and cultural activities. Village Square will be a great part of this exciting growth.
New Buffalo, MI (PRWEB) January 03, 2014
Village Square, formerly known as Fountain Square, is for sale in downtown New Buffalo, Michigan. The centrally located 1.9 acre parcel between Whittaker and Thompson Streets includes a partially constructed garage, an unfinished three-story building and a single story building currently occupied by Del Sol, an upscale beachwear and accessories shop. Also included for sale is .39 of an acre parcel adjacent to the Michigan Central Railroad (Amtrak) along Mechanic Street between Thompson and Townsend Streets. The entire real estate offering is priced at $1,950,000. Rob Gow and Chris Pfauser of Prudential Rubloff will market the property.
"We are proud to have been selected to market this important New Buffalo real estate listing," said Rob Gow. "The property will be marketed across the Midwest region and nationally to attract potential buyers. There is an exciting story to tell about New Buffalo and Harbor Country. At the center of Harbor Country, New Buffalo is a growing area rich with recreational, educational and cultural activities as evidenced by recent park enhancements, bike trails, Galien River water trails, live theater and musical concerts. We are thrilled to be a part of moving our community forward."
Rob Gow and Chris Pfauser of Prudential Rubloff also have the adjacent Michigan Thyme Shops and Café property listed for sale. Regarding that real estate listing Rob Gow added, "The economy is on the upswing and we envision a vibrant downtown New Buffalo with commercial properties such as Michigan Thyme Shops and Café continuing to grow in value."
About Prudential Rubloff Properties
Prudential Rubloff's New Buffalo office is located at 439 S. Whittaker Street in New Buffalo. To reach Rob Gow, the listing agent for this property, please call 269-612-4104 or email RobGow(at)ShorelineAdvice(dot)com. Prudential Rubloff Properties has 15 sales offices serving Chicago, the North Shore, the northern and western suburbs, and Michigan's Harbor Country. With nearly 850 sales professionals and staff, we can assist you with your real estate needs whether you're interested in rentals, single family homes, lofts, condos, townhomes, co-ops, commercial property or vacant land. Prudential Rubloff offers a full suite of homeownership services including mortgage, title, insurance, home warranty and home inspection. Prudential Rubloff is the exclusive provider of Prudential Rubloff Mobile, a mobile application that allows users to explore all homes for sale, for rent or that have recently sold in the Chicago and Southwest Michigan areas from their mobile device. Prudential Rubloff is also the exclusive provider of the Rubloff Report, a consumer trend and analysis tool for neighborhoods and communities in Chicago's Cook, Lake, and DuPage counties. To receive the Rubloff Report, or to download the Prudential Rubloff Mobile application, please visit Rubloff.com.
Prudential Rubloff Properties is an independently operated subsidiary of HomeServices of America, Inc., and offers full-service residential and commercial real estate services through a network of nearly 1,400 offices and approximately 47,000 sales professionals. Prudential Rubloff ranked first in the Midwest and seventh in the nation in the Prudential Real Estate Network in 2012. For additional information and the finest online residential real estate experience in Chicago, please visit Rubloff.com.