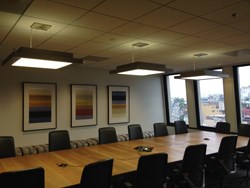 Glendale, WI (PRWEB) December 18, 2013
Visa Lighting is pleased to announce that more LED products and more product lines have been added to its popular XPS program, which offers expedited shipping within 10 business days. The expanded LED options include lines such as Raven, Basics, Camber, Masque, Ovation, Fifth Avenue and many more.
"We are pleased to expand our XPS program to offer many more LED products," says Cindy Vera, Sales and Marketing Director of Visa Lighting. "With our XPS program, we offer great lighting solutions to those with a tight deadline – there's no need to feel pressure to meet the needs of a fast-paced schedule."
Working with the design community to understand this concern over tight construction schedules, Visa Lighting has the most comprehensive offering of products that can ship quickly. Nearly 60% of Visa Lighting's catalog can be shipped within 10 days.
"Deadlines can compromise great designs – and we believe that quality and style should not be compromised due to short time frames," Vera says. "You get product when you want it. In return you and your clients receive high quality, high performance and decorative product across a broad range of finishes and our most popular options."
To apply the XPS 10-day express shipping option, simply add the XPS option to the end of the catalog number. Be sure to check availability for each product and option. There are no minimum or maximum order restrictions on the use of the XPS option.
For more information, visit Visa Lighting at http://www.visalighting.com
About Visa Lighting – An Oldenburg Group Company
The most recognized U.S. brand in performance decorative lighting, Visa Lighting creates the highest quality, most innovative products available to the lighting industry. State-of-the-art in-house UL approved laboratories and R&D facilities provide Visa Lighting with the tools to explore, develop and implement new cutting edge technologies.
Located in Milwaukee, Wis., Visa Lighting products are manufactured and assembled in the United States. Visa Lighting strives to exceed the expectations of our customers, employees and community. We provide tangible value in our products to the customer, support continual improvement opportunities for our workforce and demonstrate commitment to community measured by our stewardship of the environment and promotion of social responsibility. Visa Lighting is an Oldenburg Group Company. For more information about the company, visit http://www.visalighting.com.