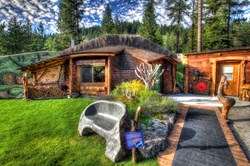 Montana Hobbit House
Trout Creek, Montana (PRWEB) December 18, 2013
With the advent of the latest Hobbit movie – "The Desolation of Smaug", the phones have been literally ringing off the hook to book a stay at "The Shire of Montana". This Hobbit House is one of the only places in the world where you can actually stay in an exclusive, underground Hobbit abode.
As far as the smog (Smaug) goes, there isn't any! The Shire of Montana sm is one of the cleanest places on earth. Located in Sanders County, Montana which is 115 miles long by 50 miles wide – this pristine area in Montana actually has no stop lights in the entire county and supports a plethora of wildlife as well as some of the best bass fishing in the world.
This unique guest resort (formerly the Hobbit House of Montana) is a 20 acre, adult Fairy land filled with the magic and mystery involving Fairies, Elves, Dwarves and of course Hobbits. This land of mists and ravens was featured on MTV, HGTV and even had a write-up in the New York Times as one of the strangest, yet most magical places for a must visit, especially if you are into the works of J.R.R. Tolkien.
This lushly appointed tourist home is tastefully furnished with hand crafted juniper furniture, a fire stove, granite counter tops with HD Blu-Ray TV, XM radio, Wi-Fi and a designer kitchen for the gourmet chef who, like the Hobbits, may want to create and eat meals six times a day.
The Shire of Montana is truly a sound architectural masterpiece that offers many modern day conveniences, yet incorporates the mystique and caricature of a cozy Hobbit House patterned after the works of J.R.R Tolkien.
Visit the 700 year old Troll house or enjoy the magical waterfall where the sprites get a drink of water from the River Shire. As twilight touches the valley peaks, over 200 solar powered dragon flies begin to glow as the Shire lights up for the night bringing a dazzling array of color to this unique part of Montana.
The Shire is now closed as the Hobbits are nestled in for the winter but will re-open in the spring. To see photos of the Shire and to book your reservation for next year, please log onto http://www.TheShireofMontana.com or call (406) 827-7200. Our email address is Host(at)TheShireofMontana(dot)com.