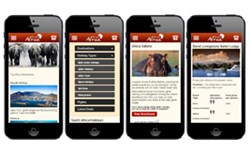 The biggest and best Freedom Africa offering to date
(PRWEB UK) 19 December 2013
The leading name in tailor-made African adventure travel, Freedom Africa are delighted to announce that its online catalogue has now been optimised upon mobile format meaning that your dream Kenyan safari or Tanzanian adventure break can be made possible from the palm of your hand.
Totally responsive, Freedom Africa mobile includes all of the warm, informative and insightful text from its desktop counterpart on an easily manageable interface serving to reassure and guide everybody from first time African adventurists to experienced enthusiasts.
Entirely constructed with the contemporary traveller in mind, Freedom Africa mobile lists destinations, holiday types, flight details, latest deals and the overall package offering on a trusty homepage, enclosed with a contact number for those all important enquiries.
An easily interpretable navigation menu - that moves immediately as you scroll - ensures that all visitors to Freedom Africa mobile are greeted with clearly signposted areas that suit their specific needs.
Visitors can click through numerous pages with ease and recognise the benefits of uncovering the world famous Masai Mara or alternatively finding that perfect stretch of golden sand in paradise – or Mauritius as most people refer to it.
Freedom Africa recognises the strains placed upon modern living but with all this information and more just a flick of the wrist away, excited travellers can quickly and easily look up the key information that will contribute to an unforgettable holiday abroad.
This means that whether you're commuting to work or catching up on your social life during your lunch break, you are always able to swiftly access the new service that is available on your iPhone, iPad, Android or Blackberry device.
The newly optimised mobile site dovetails with the biggest and best Freedom Africa offering to date as we head into 2014.
Spanning eight African destinations and specialising in breaks from the multi centre, safari, touring, beach, self-drive and honeymoon categories, not to mention inviting travellers to build their own personalised break, there are countless opportunities for would-be travellers to get excited about in the coming months and beyond.
The slick looking mobile optimised site is the perfect accompaniment for tourists looking to get the most out of their African experience. Explicit itineraries can be checked upon that list the activities and stop off points that underpin each and every day spent abroad.
For example, for those looking to book up the 10-day Kenya Beach & Short Safari package – available at a hugely competitive £629 per person – visitors to Freedom Africa mobile will quickly find that day one comprises water sports by the luxurious Papillon Lagoon Reef whereby day five is where you'll get to witness cheetah, rhino and more.