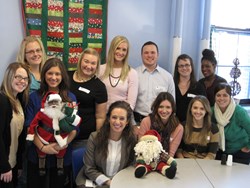 Knowing that doing something as small as decorating the dining room could brighten even one child's day was worth it. Jill Perry, Loffler Account Executive
Minneapolis, MN (PRWEB) December 18, 2013
Loffler Companies, a leading provider of office technology and services in the Upper Midwest, celebrated President and CEO Jim Loffler's mantra of "To Whom Much is Given, Much is Expected" during the 2013 holiday season.
In early December a group of Loffler employees traveled to St. Joseph's Home for Children in Minneapolis to decorate the dining room for Christmas. Garland, trees, and holiday art transformed the space into a warm, inviting place for the young residents to eat, drink and be merry.
Loffler has been a partner with St. Joseph's Home for Children since 2004 when Darcy Loffler began volunteering as a tutor in children's classrooms, and has continued to provide financial and volunteer support over the years. St. Joseph's, a program of Catholic Charities of St. Paul and Minneapolis, serves children and their families by addressing immediate needs for shelter and stability and offering long-term solutions to emotional and behavioral issues with quality mental health care.
"I was happy to volunteer at St. Joseph's Home for Children. Knowing that doing something as small as decorating the dining room could brighten even one child's day was worth it. We had so much fun learning about the kids and St. Joe's; I'll definitely help next year too!" Loffler Account Executive Jill Perry explained.
A toy drive for Volunteers Enlisted to Assist People (VEAP) kept the spirit alive at Loffler's Bloomington, MN headquarters as the holidays approached. Employees donated and delivered toys and games to VEAP to help parents of low-income families provide stable and positive holiday memories for their children. For 35 years, VEAP has been providing a range of services to help low-income people meet immediate needs and reach their long-term goal of stability.
"Our employees feel the calling and want to make a difference in the communities in which we serve. I'm proud of our team and the quality of services they provide our clients and our community," said company founder and President Jim Loffler.
Loffler provides support throughout the year for many other great causes in the Twin Cities including the Susan G. Komen Race for the Cure as a Gold Sponsor, American Cancer Society, Ronald McDonald House, Cornerstone, thinkPINKkids, Feed My Starving Children, and more. In 2012 Loffler was selected as one of an elite twelve Minnesota organizations to be honored with the 2012 Jefferson Award for Public Service by the Minneapolis/St. Paul Business Journal.
About Loffler Companies
Founded in 1986, Loffler Companies provides office technology and services to improve a client's productivity and bottom line results. Offerings include multifunctional copiers and printers (Canon, Konica Minolta, HP, Toshiba, Océ, Lexmark), managed print services, software and workflow technology/consulting (uniFLOW, eCopy, etc.), IT managed services, IP phone solutions (NEC, ShoreTel), and on-site people-based management of copy centers and mail rooms.
Loffler now has more than 350 employees supporting clients in Minnesota and Western Wisconsin that are local, national, and international in scope. Loffler is recognized by multiple partners as one of the top 15 office technology and services dealers in the country. For more information about Loffler Companies and how it can help your organization succeed, please call Loffler at (952) 925-6800 or visit http://www.loffler.com.