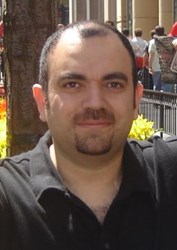 My goal is to help fearful flyers overcome their phobia and join the friendly skies.
New York, NY (PRWEB) December 18, 2013
Are you afraid to fly, or know someone who is? Then Michael Salem, once petrified of flying, and author of "Brave Flyer: How to End Your Fear of Flying," may be able to eliminate those fears forever. ExpertFlyer.com®, the premier online air travel information tool and creator of the award-winning app, Seat Alerts®, went One-on-One with Michael Salem to learn how he overcame his fear of flying and how thousands of travelers can overcome the same fear.
For years, Michael Salem counted himself among the ranks of petrified flyers. Unable to get on a plane, Michael recalled many missed opportunities, both personal and professional, which led to his search for a solution that would end his fear of flying. His book is a culmination of research, self-exploration, and experimentation resulting in a collection of facts, myths, and techniques designed to help fearful flyers overcome their phobia and join the friendly skies.
"From my research, I have learned that most fearful flyers are not overly concerned with the possibility of an airline accident," Salem explains. "This is exactly why statistics that tell you how driving a car is more dangerous than being on a plane, or how well planes are engineered, will do little to calm your fears."
"Brave Flyer" focuses on the underlying causes of Pteromerhanophobia, the unwarranted, irrational and extreme fear of flying. The book explores and offers solutions to the key root causes of the fear, such as loss of control, turbulence, claustrophobia, fear of heights, and others.
"As a traveler who had to overcome the fear of flying, Michael Salem was able to create a book based on the phobia sufferer's perspective and personal experience," says Chris Lopinto, president and co-founder of ExpertFlyer.com. "There is a big, beautiful planet waiting to be discovered and 'Brave Flyer' is helping travelers overcome their fears so they can begin exploring the world."
To read the entire interview with Michael Salem, please visit ExpertFlyer's blog.
About Michael Salem
Michael Salem is an American author, speaker, and entrepreneur. He was educated at the University of Oklahoma and George Washington University. He is best known for his book, "Brave Flyer: How to End Your Fear of Flying," which helped scores of Fearful Flyers from all around the world overcome their phobia and start flying again. This thought provoking book gave readers a first-of-its-kind mind disruptive approach to automatically force their brains to start visualizing and believing that flying is safe. Michael used his excellent communications skills to successfully help individuals and groups of people from around the world get over their fear of flying.
About ExpertFlyer.com
Each month, ExpertFlyer's One-on-One blog goes face-to-face with the travel industry's leading decision makers to discuss and address topics relevant to many of today's business and frequent travelers.
ExpertFlyer.com was conceived and created by an eclectic team consisting of a veteran elite tier frequent flyer, an airline captain and corporate travel manager, and information technology professionals to deliver a 24/7 real time powerful air travel information service. The company provides its subscribers and corporate travel managers alike with a complete, concise and efficient way to access the ever-changing details of worldwide air travel information. For more information, please visit expertflyer.com.