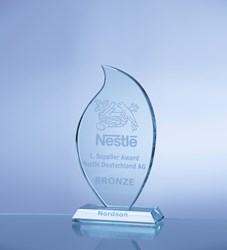 Erkrath, Germany (PRWEB) December 19, 2013
Nordson Corporation (Nasdaq: NDSN) recently won Nestlé Deutschland AG's bronze award for supplier excellence in ceremony held at the international food producer's German headquarters in Frankfurt.
The award, presented by Gerhard Berssenbrügge, Nestlé Deutschland AG's, chief operating officer, recognized Nordson for its new adhesive dispensing technologies and its contributions to Nestlé's innovation and sustainability goals.
Specifically, the Nordson Freedom™ adhesive dispensing system with integrated OptiBond™ EcoBead™ adhesive pattern generator reduced energy consumption and adhesive, lowering operating costs and improving efficiency of Nestle packaging lines.
The Freedom system employs innovative tankless technology providing adhesive on demand. Tanks of molten adhesive that require continual heating are eliminated, reducing energy use by up to 50-percent. Melter warm-up time is reduced by nearly 70-percent. MiniBlue® II dispensing guns with integrated insulating covers reduce energy consumption up to 38-percent, while smaller diameter hot melt hoses also use less energy.
OptiBond EcoBead intermittent bead dispensing capability is integrated into the Freedom system's Optix™ touch-screen controls. Users simply choose the percentage of adhesive savings desired, ranging from 30- to 60-percent.
OptiBond EcoBead technology is compatible with existing parent packaging machinery with 24-volt control architectures, variable-speed and constant-speed, and continuous and indexed packaging.
The need for time-consuming or costly PLC reprogramming is eliminated, as is the need for more expensive stand-alone pattern controls, external power supplies, encoders, trigger devices or in-line speed sensors.
Packagers using integrated OptiBond EcoBead technology in Freedom melters achieved adhesive savings ranging from 30- to 60-percent while maintaining bond strength. Adhesive bond strength is greatest at the beginning and the end of each adhesive bead. Dispensing a greater number of short, intermittent beads to replace long beads increases the number of beginning and end points, improving bond strength. As a result, packagers using shorter beads and less adhesive attain bonding equal to that of longer beads that use a greater volume of adhesive.
For more information on Nordson material delivery and dispense systems, contact Nordson Corporation at (800) 234-0506 or visit http://www.nordson.com/hotmelt.
Nordson engineers, manufactures and markets differentiated products and systems used for dispensing and processing adhesives, coatings, plastics, sealants and biomaterials, with related technologies for managing fluids, testing and inspecting for quality, and treating surfaces. These products are supported with extensive application expertise and direct global sales and service. The company serves a wide variety of consumer non-durable, durable and technology end markets including packaging, nonwovens, electronics, medical, appliances, energy, transportation, construction, and general product assembly and finishing. Founded in 1954 and headquartered in Westlake, Ohio, the company has operations and support offices in more than 30 countries. Visit Nordson on the web at http://www.nordson.com, http://www.facebook.com/nordson, or @Nordson_Corp.