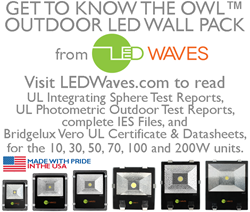 The 70 Watt LED flood particularly impressed researchers, exceeding projected brightness by over 700 lumens and exhibiting groundbreaking efficacy at 121 lumens per Watt.
Brooklyn, NY (PRWEB) December 18, 2013
Brooklyn lighting supplier and manufacturer LED Waves is pleased to announce the release of the full suite of test reports and IES files for the Owl™ Outdoor LED Wall Pack. Introduced to the public in July of this year, the Owl Pack series hit the ground running, both in terms of solid state industry buzz and in consumer sales.
The news reached all sides of the industry in part because of the Owl Pack's wide range. Made in power levels of 10, 30, 50, 70, 100 and 200 Watt units, these LED flood lights can meet the lighting needs of virtually any building exterior, no matter what application - commercial, industrial, or residential.
The UL Integrating Sphere Reports (which measure qualities of light including lumen output, color temperature, and color rendering accuracy), the Photometric Outdoor Test Reports (which measures light distribution and intensities in various directions outdoors) and IES files (which contains more technical photometric data, executable by lighting professionals) for the 10, 30, and 50 Watt Owl Packs – the outdoor LED floods more suited for smaller commercial and residential building exteriors – were completed and posted to LEDWaves.com earlier in the fall.
This week, LED Waves has received and published IES files, UL Integrating Sphere and Photometric Outdoor Test Reports for the 70, 100 and 200 Watt units – the flood lights designed to be more industrial LED lights.
This new batch of reports and tools completes the library of information for the Owl Outdoor LED Wall Pack product line. The test results show that each wall pack performed at or above the expectations of LED Waves' R&D department. The 70 and 100 Watt units particularly impressed the researchers, exceeding their projected brightness by over 700 lumens each. Both Owl Packs also exhibited groundbreaking efficacy at, respectively, 121 and 107 lumens per Watt.
LED Waves has made every report for the Owl Pack series available to the public to facilitate the buying process both for homeowners and other end-users, as well as for professional lighting specifiers. Discounts by quantity are available by calling 1(800)986-0169.