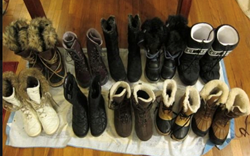 We got our hands…..or…..feet on 10 of the industry's top rated women's winter boots. We put these products to the test, traipsing through snow drifts and splashing through slush.
(PRWEB) December 17, 2013
Today, OutdoorGearLab.com released the award winners for its Top Women's Winter Boot review. After field testing 10 top-rated models in snow, ice, and freezing temperatures, each piece was rated on warmth, comfort, water resistance, style, traction, and ease of removal. The product selection included both tall and short boots, winter hikers, snow boots, and fashion-specific models. Testers used these pieces during cold desert camping trips, afternoons at Colorado ski resorts, and rainy days in Maine.
The winners are:
The UGG Adirondack II won the review's Editors' Choice Award. Gear editor Amanda Fenn writes, "OutdoorGearLab tested some top notch footwear and the Australia Adirondack II leather boot rose to the top, earning amazing marks in comfort and coziness as well as high scores in water resistance, warmth, and traction. It performed while shoveling snow during big storms and on light winter hikes, but our favorite thing about this boot was its sheepskin lining."
The Sorel Joan of Arctic took home the Best Buy Award. According to Fenn, "This boot is a cozy stylish, highly waterproof option that only costs $150. This is better than a Best Buy, it's an absolute steal! This model is a great option for women who live in cold climates and are looking for footwear that they can wear while performing outdoor chores."
The Sorel Tofino Herringbone earned OutdoorGearLab's Top Pick for Stylish Winter Boot Award. Gear Editor Fenn states, "OutdoorGearLab enjoyed this models fluffy faux fur cuff, textile upper, and chic leather detailing. Don't have to give up style for the season. This boot is not suitable for hiking, but it does offer a fair amount of warmth and plenty of protection from snow and rain."
OutdoorGearLab LLC is a company headquartered in Cheyenne, Wyoming dedicated to creating world's best outdoor gear reviews. The company's website, is a free resource for people who love the outdoors and participate in activities such as hiking, climbing, backpacking, and camping.