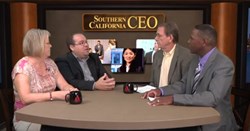 What we found is that good leaders have the capacity to draw out the best in people.
Riverside, CA (PRWEB) December 26, 2013
Will better communication between workers and managers help engage front-line workers and lead to higher productivity? According to Ray Anderson of Anderson Business Coaching, by creating a "no collar workforce," yes, it will.
In a recent interview with SoCalCEO's Ja Marr Brown, Anderson said, "The 'no collar' [workforce] is the idea of freeing people, unleashing them, letting them go where their passions take them, and then using that in some way to be able to build a [better] business, or church, or non-profit."
Anderson founded Anderson Business Coaching (ABC) 20 years ago after spending many years studying the techniques and strategies of good business management. He says good communication is the key to better business productivity.
"For 30 years, I've been helping small business leaders get their people right in order to get their business right," said Anderson. "In 1993, I founded ABC around the concept of a 'no collar' workforce – that is taking your best blue-collar worker and teaching them white-collar fundamentals of good business and unleashing their potential for the benefit of the organization."
The key to making businesses more profitable, according to Anderson, is improving communication between management and employees and teaching managers to become more effective leaders.
"Leaders have a huge impact on front-line workers, and sometimes they don't understand that. It made me begin to question why it is that some people do well and others don't. Is it leadership? How can this be changed?," said Anderson. "What we found is that good leaders have the capacity to draw out the best in people."
ABC starts with assessments that show business owners and executives where they are now, in order to help them make changes that will lead to more satisfied and empowered employees and bring about increased productivity.
"We have a system that begins with an anonymous assessment," said Anderson. "I've learned that you can't get to where you want to go unless you know where you are. We have this powerful tool based on best practices that enables you to get access to employee information anonymously. That gives you insights that otherwise you wouldn't get."
Getting candid and honest feedback from front-line workers is paramount in making changes that will increase productivity.
"What we found is that when you have a 'no collar' workforce, everybody's unleashed to their passion, but it's for a purpose that's related to the company or organization," he explained
Understanding both business strategy and culture are important for the process to achieve results, Anderson explained.
"Strategy is the bricks of an organization, all the systems that make something happen from A to Z," he said. "Culture, though, can prevent that. Culture can destroy strategy. So how do you build that connection? What I find is that most organizations do not have a good communication structure that removes what I call "information clots." Somewhere [in] the organization there is a spot where a supervisor or somebody else will hold information because he can, and he wants to be able to control it. Wherever that point is, that means the leader is no longer getting access to information that would help him achieve his goals. If you have a good communication structure, which has checks and balances to make sure that doesn't happen, you have a good system that works."
Mr. Anderson has also just become a consulting partner with the Alliance for California's Economic Sustainability (ACES), where he and other top national consultants provide free informative web-casts to help businesses become more productive, while contributing to the economic growth of the region.