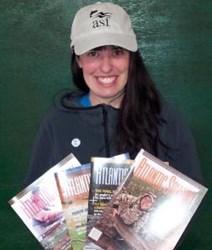 Largely supported by conservation anglers, ASF is involved in a wide array of research, restoration, education and protection projects in the United States, Canada and Greenland, where salmon from North American rivers feed
St. Andrews, New Brunswick (PRWEB) December 18, 2013
There is no better time than the holiday season to consider giving a gift that gives back with an affordable membership in the Atlantic Salmon Federation (ASF). ASF is a world leader in conserving wild Atlantic salmon and their environment.
"Largely supported by conservation anglers, ASF is involved in a wide array of research, restoration, education and protection projects in the United States, Canada and Greenland, where salmon from North American rivers feed," said Sue Scott, ASF's VP of Communications.

ASF works with seven Regional Councils in New England and eastern Canada to ensure that live release by fly fishers is a recognized conservation strategy. Releasing wild Atlantic salmon to continue their spawning runs is second nature among many ASF members.
ASF is a strong proponent of land based, closed- containment aquaculture and a partnership with the Conservation Fund Freshwater Institute in West Virginia has been very successful. The salmon, grown in continuously recycled water, without using harsh chemicals or antibiotics, have an excellent survival rate and have received rave reviews from chefs and consumers in taste tests.
From 2002-2011, ASF and partners were able to achieve zero commercial harvest of salmon at Greenland. Work is underway to renew this agreement.
ASF researchers track annually nearly 300 juvenile salmon as they leave their home rivers and migrate to ocean feeding grounds. The data collected will shed light on the causes of the poor survival of salmon at sea. The primary focus in the short term is on estuaries where implementation of management strategies is most achievable.
To counteract high mortality in the ocean, ASF's goal is to keep "in river" habitat healthy to increase production of juvenile salmon and to support adults that do return.
The best chance of restoring Atlantic salmon in the US relies on the removal of large and small dams and the improvement of fish way construction. After 13 years of raising funds and working with other conservation groups, government departments and the Penobscot First Nation, the Great Works and Veazie dams have been removed from Maine's Penobscot River, opening 1,000 miles of prime habitat to eleven species of sea-run fish.
"Giving the gift of membership in ASF is a caring way to celebrate our natural environment this holiday season," concluded Sue Scott. "ASF works diligently on behalf of anglers and other conservationists to ensure that wild Atlantic salmon continue to thrive for generations to come."
Annual membership starts at as little as $25 and includes a subscription to the award-winning, artistically-illustrated, Atlantic Salmon Journal. The journal is delivered directly to members on a quarterly basis, keeping members updated on all the latest fishing and conservation news.
To purchase an ASF Gift Membership e-mail cbartlett(at)asf(dot)ca or call 1-800-565-5666. Gift givers in the United States and Canada can qualify for a tax receipt.
For more information please visit the membership section on ASF's web site: http://www.asf.ca/membership.html
-30-
The Atlantic Salmon Federation is dedicated to the conservation, protection and restoration of wild Atlantic salmon and the ecosystems on which their well-being and survival depend. ASF has a network of seven regional councils (New Brunswick, Nova Scotia, Newfoundland and Labrador, Prince Edward Island, Quebec, Maine and Western New England). The regional councils cover the freshwater range of the Atlantic salmon in Canada and the United States.
ASF Contact: Holly Johnson, Manager of Public Information: (506)529-1033(o)
(506)469-1033(c), HJohnson(at)asf(dot)ca
To view this story online visit: http://asf.ca/help-fly-fishing-survive-with-a-membership-in-asf.html
Join us on Facebook: https://www.facebook.com/AtlanticSalmonFederation Twitter: https://twitter.com/SalmonNews
For high-resolution photography please visit: the ASF Image Gallery: http://www.asf.ca/images.html