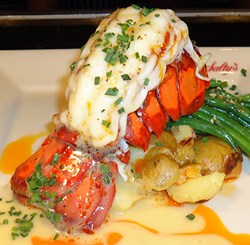 (PRWEB) December 20, 2013
When thinking about lobster, many think rich, high in fat and not a healthy choice, but research shows that this isn't true. In fact, when it comes to the Paleo diet, lobster is the cream of the Paleo crop for certain nutritional benefits and GetMaineLobster.com is currently offering a variety of Paleo diet-friendly recipes and Maine lobster specials.
There's just one problem. Lobster isn't always accessible to those living in landlocked states. And, there's the expense issue that comes with having it shipped from the Atlantic coast. For those who want to include lobster in their diets and have financial constraints, it's all too easy to put the kibosh on even entertaining the notion that lobster might be part of the Paleo diet.
Just as important as understanding the nutritional benefits of food is knowing where the food comes from and the resourceful ways one can go about getting it. Living a good distance away from the coast obviously makes it more difficult to get lobster on the dinner table than, say, a roast chicken, but it is achievable with an open mind and not much effort.
"I travel around the country a good deal throughout the year and am still surprised by the high number of people who are not aware that Maine lobster can be shipped directly from the dock to their doorstep…and arrive alive!" says Mark Murrell, founder and CEO of GetMaineLobster.com. "I am less surprised by the number of people who won't even research online prices because they believe the prices are over the top, which in many cases is true, unless you dig a little."
With all of these perceived obstacles in mind, the team at GetMaineLobster.com has some helpful, must-read facts that just might alter the assumptions of naysayers who completely exclude lobster from their Paleo diets.
Where to Find the Best Fresh, Frozen, and Cooked Maine Lobster: there are many online seafood delivery services, such as GetMaineLobster.com, that deliver live, frozen and cooked Maine lobsters to anywhere in the United States. Online seafood delivery services often offer good specials on lobsters throughout the year, making it affordable for the average American.
Sign up to receive e-mail directly from the online seafood delivery service that interests you. GetMaineLobster.com sends at least two e-mail specials to its customers per week. These are exclusive offers that cannot be found on the website. It is not uncommon to see a lobster dinner for four with chowder, Maine whoopie pies, and crab cakes for less than one hundred dollars.
Look for free shipping on online specials. Shipping adds a lot to an order's bottom line, and some online seafood and lobster businesses have better partnerships with mail handlers than others.
What to Look for When Buying Maine Lobster: buy from a respected online seafood business. The advantages of doing a little research about the business you buy from is twofold: first, ensuring the quality of the seafood you want to eventually eat, and second, supporting the sustainability of the lobster fishery. Everyone has a responsibility to ensure that future generations will enjoy the same foods that are enjoyed today. Choose an online seafood business that works only with lobstermen and fishermen who take measures in their work to do the same.
The concept of lobster farms and aquafarms is becoming a reality. When this happens, go for the wild-caught lobsters. To date, there is no evidence that farm-raised seafood or shellfish has more or better flavor. None. In fact, it is just the opposite.
Nutritional Facts About Maine Lobster: lobster is high in protein, Selenium, Vitamin B12 and phosphorus. It is also rich in Omega 3 fatty acids and low in cholesterol, which makes it a perfect food to add to your Paleo diet. Lobsters have a digestive tract called a hepatopancreas, a combination of a liver and pancreas, which is very high in nutrients and flavor. So much so, in fact, chefs often use it to flavor chowders, soups, and sauces. Finally, lobsters are easy to prepare and because they pack in a lot of their own natural flavor, they do not require additional high-fat complements such as hot melted butter to enhance them.
To learn more, go to GetMaineLobster.com or call (866) 562-4817.
About GetMaineLobster.com
GetMaineLobster.com, a division of Black Point Seafood and Black Point Gourmet, hand-selects the finest Maine lobster, seafood and beef products for convenient distribution throughout the United States. Their passion is to make fresh, quality seafood readily available to customers across the country, which is why they buy from only the most trusted, well-established suppliers to ensure that they receive the finest products available.
GetMaineLobster.com was selected out of the more than four million small American businesses served by Chase bank to represent its new Platinum Business Checking product for its 2013 national advertising campaign.