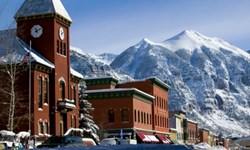 "There isn't another deal like it, giving our guests and locals alike some of the best and easiest access in ski country."
Telluride, CO (PRWEB) December 19, 2013
Bargain hunters in the Los Angeles and Phoenix areas can ski Telluride, one of North American most luxurious destination resorts, by booking Allegiant Airline's two for one tickets and Telluride.com's great lodging, lift ticket and ski rental packages. For a limited time only, Allegiant Air in conjunction with the Colorado Flights Alliance and the Telluride Tourism Board are offering two flights for the price of one to Telluride/Montrose from LA and Phoenix. Until December 20th 2013 two airline tickets can be purchased for the price of one by calling the Telluride Tourism Board.
Those interested in utilizing the buy one get one free special are encouraged to visit Allegaint Air's website and research their travel date range. Direct flights to or from Telluride/Montrose are offered until March 29th and valid on Wednesdays and Saturdays. A single round trip ticket purchase is required and must be bought over the phone with a Telluride Tourism Board agent. Then a free ticket is assigned to a second passenger and must be used for the same flight.
Even if you miss the date and are unable to take advantage of the two for one flight special, regular fares are extremely affordable. Allegiant Air is currently offering one way tickets from Phoenix or LA starting around $60.
"We are thrilled to be back with the two for ones this winter," said Colorado Flights Alliance COO Matt Skinner. "There isn't another deal like it, giving our guests and locals alike some of the best and easiest access in the ski country."
Once you have secured your low cost airfare, reach out to the team at Telluride Alpine Lodging for your lodging needs. Visit their website Telluride.com for the most comprehensive source of information about the area, including a current list of festivals & events, information on 100's of things to do in the area, and descriptions of booking options and ski and stay packages for more than 350 hotel rooms, condos, and homes available to rent.
Never been to Telluride? The town was founded in 1858 after gold and silver were discovered, Butch Cassidy robbed his first bank here, Nikola Tesla selected the site to build the world's first power plant here, hippies re-settled these lands in the 60's, skiing arrived in the 70's, real estate agents invaded in the 80's, Tom Cruise, Oprah Winfrey and Oliver Stone vacation here, and Tim McGraw even wrote a song about it. Check out Telluride.com and plan your trip to paradise today.