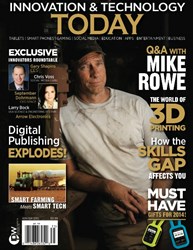 We are lending money we don't have to kids who can't pay it back to train them for jobs that no longer exist. That's nuts. - Mike Rowe, mikeroweWORKS Foundation
Denver, CO (PRWEB) December 18, 2013
Two of America's premier business innovators, Dirty Jobs creator and host Mike Rowe, and bestselling author and Consumer Electronics Association's President & CEO Gary Shapiro, sound off on jobs, new technology and growth areas in the Winter 2013 issue of Innovation & Technology Today.
The quarterly magazine is on sale at newsstands nationwide. It is also available digitally on iTunes, Zinio and a special discounted subscription directly from the publisher, Innovative Properties Worldwide.
During an exclusive interview with I & T Today publisher Charles Warner, Rowe sounded a clarion call: there are 3 million unfilled skill jobs in a United States dealing with millions of unemployed workers. "I don't think the skills gap is a problem; I think it's a symptom of what we value," Rowe says. "Somewhere along the way, we've stopped valuing hard work and skilled labor.
"For people willing to learn a useful skill and work hard, opportunities are everywhere," he added.
Shapiro, head of the Consumer Electronics Show, America's premier electronics trade show, sees new technologies as a growth opportunity. "The first big innovation is the Internet of Things, or connected objects that will help us lead more integrated lives," he says in I&T Today. "Also, we're fast approaching an era where cars drive us, not the other way around. At the 2014 CES, nine of the top 10 car makers will be on hand showcasing the latest in automotive technology."
Rowe and Shapiro head up an Innovation & Technology Today issue that focuses on new frontiers in innovation and business growth. Among the highlights of the 128-page winter issue:

Entrepreneurial mastermind Larry Bock speaks about the U.S. Science and Engineering Festival as a showcase for young innovators. Bock is one of ten CEO and/or decision-maker participants in the Innovators Roundtable, including Forbes Top 50 Social Media Influencer Chris Voss, and September Dohrmann of CEO Space.
Digital publishing's growing success, new directions, and technologies are explored by I&T Today Editor Robert Yehling.
3D Printing is about to explode – why? We present the reasons why in a feature by contributing writer Stephanie Clarke.
How did smart farming – as in, automated farming – transform one Kansas farm's fortunes? Why is it agriculture's new killer technology? A report straight from SPH Farm in Colby, Kansas.
How did travel become portable, mobile and instant? Contributing writer Rosemary O'Brien gets to the bottom of the travel industry's quantum shift to online and mobile technology.
What strategies and innovations can serve companies for the next wave of network security threats? National systems and strategy expert Rick Smith joins us for this story.
Headphones and audio products are smarter and hotter than ever. Which technologies are leading the way?
What's behind the continued double-digit growth of gaming? Gaming and Entertainment Editor Aaron Halda breaks it down.
The winter issue of Innovation & Technology Today also features edgy departments and columns that include credit cards where customers set their own rewards; how the iPad Air is revolutionizing tablets; Apple's new "Spaceship" campus; the fight between devices and studies in education; cresting social media trends; smart home irrigation; and technology that renders mobile and wearable devices waterproof.
In addition, there is an expanded New Products section and Gift Guide for the winter issue.
For more information, contact Innovation & Technology Today at (720) 708-4250 or visit http://www.innotechtoday.com.