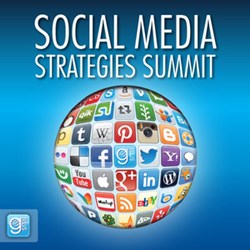 [b]est case scenario, we're able to engage, share some content and change hearts and minds. Worst case, we're able to have an open dialogue and then move on, agreeing to disagree.
Chicago, IL (PRWEB) December 17, 2013
The Social Media Strategies Summit Chicago is excited to announce Chad Mitchell, Senior Director of Digital Communications will be delivering a morning keynote presentation on April 30th.
Mitchell will be discussing "Humanizing Your Brand on Social Media," on the opening day of the Chicago Summit. When asked what Walmart is trying to accomplish on social and why he thinks it's important to humanize the brand he stated, "[b]est case scenario, we're able to engage, share some content and change hearts and minds. Worst case, we're able to have an open dialogue and then move on, agreeing to disagree."
Mitchell's session will cover key tips and tricks such as engaging your employees as genuine expressions of your brand, examples of how to create original and meaningful one-on-one interactions with customers, and examples of how to engage loyal fans and how they can contribute to your brand's authenticity.
As Senior Director of Digital Communications at Walmart, Mitchell serves as a strategic thinker and storyteller, directing a team responsible for managing and supporting all aspects of Walmart's corporate digital presence, including external and internal sites, social media platforms, and mobile environments. Prior to joining Walmart, Chad spent time at a Washington, DC agency where he developed innovative online advocacy strategies and campaigns for organizations such as Fortune 500 companies and national and international trade associations.
SMSS returns to Chicago for a third consecutive year, April 29 - May 1, 2014. SMSS Chicago has already confirmed speakers including:

Troy Mills, DVP - Customer Care Operations, Walgreens
Rachel Luxemburg, Principal Strategist, Community & Social Media, Adobe
Jennifer Mesenbrink, Senior Manager, Digital and Social Content Strategy, Motorola Solutions
View the full speaker line-up at the SMSS Chicago site.
The three-day event features 9 pre-summit workshops and over 30 learning sessions and case studies. SMSS provides attendees with the opportunity to meet and network with valuable business contacts, and learn what leading brands are doing within the social media space. SMSS Chicago features case studies that will give attendees insights into how to align social media marketing efforts with their company's overall business and corporate strategies. The agenda includes dedicated sessions for all types of marketers and social strategists including Business-to-Business, Business-to-Consumer, Small-to-Medium Business and Non-Profit. Attendees can learn more about the various sessions by viewing the agenda here.
To assure attendees get the full benefit of an intimate summit, we only offer a limited number of seats. Take advantage of our early bird registration deals to secure your seat. Group discounts are also available.
View the Agenda and Register for SMSS Chicago On Our Website:
http://www.socialmediastrategiessummit.com/chicago-2014/
About GSMI:
GSMI is a leader in the industry of executive education, creating conferences, summits, workshops and training sessions that combine rich learning environments with the opportunity to network with today's most relevant thought leaders, speakers and practitioners. GSMI's annual events have reached 80% of the Fortune 500 companies, in over 30 countries, covering topics that today's leaders find most challenging and inspiring.
MEDIA CONTACT:
Tom Dibble
Tom.dibble(at)gsmiweb.com
619.810.1860