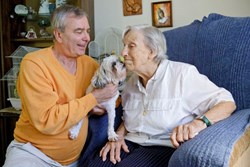 "I urge every caregiver who is feeling stressed to reach out to the VNA. We can provide access to an array of services, including some that are free or offered at a reduced cost for those who meet eligibility requirements," said Courtney Conway, LSW, MSW.
Morristown, N.J. (PRWEB) December 19, 2013
Someone is now looking after another adult in one of every four U.S. households. While caregiving can be a rewarding expression of love, it's also physically, emotionally and spiritually demanding – especially when coordinating their older loved one's care during the holiday season. Visiting Nurse Association of Northern N.J. (VNA) offers an array of caregiver support services including some that are free of charge for those who meet eligibility requirements.
Caregivers who are responsible for a parent, spouse or another adult family member are characteristically very unselfish, patient and steadfast. Unfortunately, the majority also succumb on occasion to feelings of stress, anxiety, isolation and helplessness due to the difficult, 24/7 nature of caregiving and the emotional toll of witnessing the decline of a loved one. Helpful tips for caregivers like avoiding isolation and reaching out for support are a few offered by the VNA to help caregivers during this busy time and can make the holidays less stressful.
The resources VNA can offer include immediate access to the agency's services under Morris County and state grant programs including Respite for Caregivers, Caregiver Training and Education and House Call Groceries for Seniors; Friendship House; and part or full-time private duty care. The most frequent external referrals include Meals on Wheels, senior transportation programs and local doctors who make house calls. Another important resource is the Caregiver Coordinator for the Morris County Division on Aging who can provide free assistance dealing with emotional stress.
Monthly Caregiver Support Group meetings are also offered through the VNA to provide caregivers with the support and resources needed as they care for their loved one. This group is open to all caregivers and is an opportunity for caregivers to receive support and guidance through group discussion and guest speakers. The group also offers assistance in accessing available resources within the community and meets on the 3rd Wednesday of every month from 3:00 p.m. - 4:00 p.m. at St. Clare's Hospital located at 130 Powerville Rd. in Booton, N.J.
In her work as a social worker for the VNA and also as the moderator for the Caregiver Support Group, Courtney Conway, LSW, MSW, has seen firsthand how beneficial the monthly support group is for the caregivers. "A lot of people are reluctant or embarrassed to share their feelings," she said. "However, most who give the group a try find that it's helpful to talk with others in similar circumstances. It's a good way to pick up practical tips and make new friends who can empathize."
The VNA is a leading provider of care for the elderly. If you or someone you know are in need of assistance or would like more information about the Visiting Nurse Association of Northern New Jersey Care Giver Support programs and helpful tips, please visit vnannj.org or call 1-800-WE VISIT.
About the Visiting Nurse Association of Northern New Jersey
Statistics show Americans would prefer to age in place at home. However, few are factoring the cost of home care into their retirement planning. Each day, the Visiting Nurse Association of Northern New Jersey http://vnannj.org encounters seniors who need a helping hand to realize their best quality of life. Many with chronic but treatable medical conditions and routine symptoms of aging aren't eligible for Medicare home care benefits. That's why it's imperative for those who haven't yet reached retirement age to plan ahead for individual needs. The Visiting Nurse Association of Northern New Jersey has devoted more than a century to delivering home health services to the residents of Morris County, NJ and neighboring communities who want to return home following hospitalization or need a helping hand to remain in the comfort of home despite illness, disability or advanced age. The Visiting Nurse Association of Northern New Jersey provides comprehensive home care services, including skilled nursing, physical, occupational and speech therapy, hospice, certified home health aides, caregiver training and support and Friendship House, an adult day care center. The Private Care Services program offers certified home health aide assistance tailored to meet specific client needs, lifestyles and resource levels. Private care is available a few hours each week or on a full-time or live-in basis. For further information about VNA services and planning ahead for private care needs, call 1-800-WE-VISIT or go to http://www.vnannj.org.