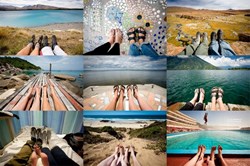 Topricin Foot Therapy Cream is available in convenient travel-size 2oz tubes that can be thrown into a carry-on or purse and is safely accepted through airplane security.
Rhinebeck, NY (PRWEB) December 23, 2013
Often in the mad holiday rush to pack and get on a plane, travelers forget to prepare themselves for the foreign airplane climate that can wreak havoc on their wellbeing.
Lou Paradise, President and Chief of Research of Topical BioMedics Inc, explains the physical effects of flying:
"Aircraft cabin pressure causes a restriction of blood circulation, causing physical swelling…especially in the legs, ankles and feet. Also, the dry air inside of an aircraft causes dehydration, with the effect of thickening the blood that can also cause swelling and pain, which is why it is so important to drink plenty of fluids, preferably water, and get up to stretch during long flights.
Topricin Foot Therapy Cream is a perfect travel companion and when you apply Topricin to the legs, ankles and feet it quickly resolves or prevents swelling by delivering a combination of natural cellular biomedicines that stimulates the draining of toxins and fluids providing a restoration of oxygen rich blood flow back into the cells - maximizing the body's healing and repairing process. Simulating lymphatic drainage reduces pressure on the micro-capillaries, relieves the pressure in the legs, feet and ankles, and restores normal circulation…keeping you comfortable the entire flight!"
Topricin Foot Therapy Cream is available in convenient travel-size 2oz tubes that can be thrown into a carry-on or purse and is safely accepted through airplane security. Generously apply Topricin Foot Therapy prior to flight, during, and post. Massage onto the feet, ankles and calf muscles until it is absorbed.
Topicial BioMedics, Inc., offers more top tips to consider in-flight:
1. Don't cross your legs when seated. Circulation will be much better without legs crossed.
2. On long flights, be sure to get up and walk around the cabin. Medical evidence suggests the risk of blood clots when sitting for long periods.
3. Put your feet up when possible. This will decrease any swelling that has accumulated in legs, and help prevent vascular problems such as varicose veins.
4. Travel with a tennis or golf ball in your luggage, and roll it between the floor and your feet during layovers.
5. Exercise your feet. Even when you can't get up and walk around, you can work the muscles in your feet. Point your toes up and down, side to side to get your feet moving.
Cheers to holiday healing and health for holidaymakers!
About Topical BioMedics, Inc.: Topical BioMedics is the research and development leader in topical patented natural biomedicines for pain relief. The company's flagship product, Topricin® Pain Relief and Healing Cream, was introduced in 1994 and is now a leading natural therapeutic brand. The formula has the distinction of being the only topical patented for the treatment of the pain associated with neuropathy and fibromyalgia. Topricin was awarded a Parent Tested/Parent Approved Seal of Approval, and was selected as a 2012 Top 100 Green Products by Healthy Holistic Living. Other formulas in the product line include Topricin Foot Therapy Cream and Topricin Junior for children (with 5% sales donated to pediatric cancer foundations).
All Topricin products are made in the U.S.A., formulated with approved medicines as found in the HPUS (Homeopathic Pharmacopoeia of the United States) and are in compliance with federal rules for homeopathic over-the-counter medicines. The products contain: no parabens, petroleum or harsh chemicals, are odorless, greaseless and non-irritating, and produce no known side effects, making them ideal and safe for the entire family.
Topricin is available in pharmacies, natural food stores, and retailers nationwide, including Whole Foods, The Vitamin Shoppe, Fred Meyer, Wegmans, CVS (Foot Care Section), Walgreens (Diabetic Section) and other fine stores, as well as directly from the company. For more information, visit http://www.topricin.com.
###
Topricin.com
Everydayhealth.com
Footsmart.com