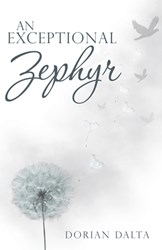 'An Exceptional Zephyr' was written as a tribute to my late dad.
Minneapolis (PRWEB) December 19, 2013
The National Institute of Health reports that 15 percent humans living in the U.S. are considered "problem drinkers," alcoholaddiction.info. In Dorian Dalta's new novel he concludes the consequences that result from becoming dependent on alcohol.
Inspired by true events, "An Exceptional Zephyr" is a short, simple novel that delves into controversial themes such as alcoholism, religion, love and death.
"The themes of afterlife and the wispy nature of my writing are developing a voice," Dalta said. "It ends up coming off as a paradox, because while the main character is preparing to die, we realize the vast richness, corruption and permanence of his story"
"An Exceptional Zephyr" begins by showcasing the life of a sick and ailing old man named Rahja. He is an older man looking at his past, viewing his mistakes, wanting to find peace with his family. His problems with alcoholism, marriage and family can relate to those who ever wanted and needed to find peace and forgiveness.
"'An Exceptional Zephyr' was written as a tribute to my late dad," Dalta said. "My dad struggled for most of his life alcoholism, resulting in his later years as he riddled with all sorts of health concerns"
For more information, visit http://www.doriandalta.com.
"An Exceptional Zephyr"
By: Dorian Dalta
ISBN: 978-1-4525-8068-5
Retail price: $15.99
Available in paperback and e-book
About the author
Dorian Dalta has a double master's degree in counseling psychology from St. Cloud State University. He was an army reserve soldier for more than 5 years, is an active musician and lives in St. Cloud, Minnesota.
###