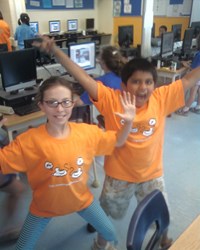 There are a lot of unemployed educators who could use a part time job.
Toronto, ON (PRWEB) December 19, 2013
The Thinking Skills Club running Fridays at Palmerston Ave. Junior School has a loyal following. "I think it improves his focus," says one mom. "The games are just fun," says her son.
Now club founder, Mitch Moldofsky, is looking for others to offer this service across the country. "The club is easy to run, all you need is kids and computers," he says. Moldofsky is putting his money where his mouth is: anyone can apply to be a Thinking Skills Club Partner via his website so that they too can run the club in their local schools and split the income. "There are a lot of unemployed educators who could use a part time job," says Moldofsky. "Running a Thinking Skills Club fulfills that need and also contributes to the community."
The games found on the Thinking Skills Club website, which are culled from popular websites such as Miniclip, help develop learning capacity, according to the site, whether the kids know it or not. There are links to research for parents and teachers that show how computer and video games can develop brain areas related to academic success, such as visual spatial attention or working memory.
While good for special education, Moldofsky's philosophy is to use these games to help the broadest possible audience. "Too often these kinds of things are confined to special ed programs," Moldofsky says, "when the reality is they're good for everyone."