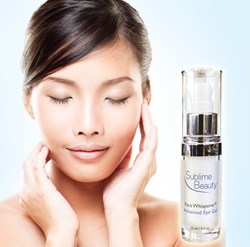 'We are proud to introduce our newest Face Whisperer® product,' says Kathy Heshelow, founder of Sublime Beauty®. 'Many of our clients asked for something to deal with typical eye problems, like dark circle or bags. We delivered.'
St. Petersburg, FL (PRWEB) December 18, 2013
Dark circles, bags or puffy eye with fine lines or wrinkles? The new Face Whisperer® Advanced Eye Gel has patented and tested ingredients to attack all of these problems.
"We are proud to introduce our newest Face Whisperer® product," says Kathy Heshelow, founder of Sublime Beauty®. "Many of our clients asked for something to deal with typical eye problems, like dark circle or bags. This is the best product for those issues."
The active ingredients in the new gel include Eyeliss®, Haloxyl® and Matrixyl®, all tested and performing formulas.
Eyeliss® directly works on reducing bags and puffiness, while Haloxyl® reduces dark circles. Matrixyl® is in many Sublime Beauty® products, and can double collagen production for smoother, younger skin.
"The Advanced Eye Gel joins our Face Whisperer® line of products, which includes the day cream with Argireline®, night cream with Matrixyl®, and the neck|decollete cream with Argireline® and organic ingredients."
Sublime Beauty® products are offered through Amazon with fast or free shipping and secure checkout. A new Sublime Beauty® Amazon webstore will be launching soon as well.