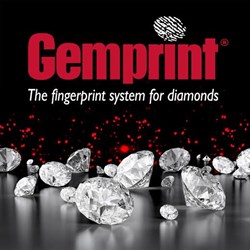 Troy, Mi (PRWEB) December 19, 2013
GemPrint Technology solves every woman's fear, "how do I know this is my diamond?" every time your ring is serviced, cleaned, reset, repaired, etc. Gemprinting is the only way that your diamond can be verified anywhere in the world. For a one-time-fee a customer gets a lifetime registration in an international diamond database that protects from stone switching or tampering. The Diamond Vault of Troy is offering $20 off GemPrint services on any diamond and is free for any engagement ring center stone purchased in the store.
Gemprint is an identification system for diamonds that records the unique and subtle distinction of each diamond, just as a fingerprint does for a human being. GemPrint technology works by shining a low-powered laser light at a diamond, which is refracted within the diamond and reflected from every facet and internal characteristic. The reflected light is captured by the Gemprint technology a district 'optical fingerprint' that is recorded and saved in the national GemPrint. An online registry allows consumers to manage their registration, update information, report a diamond lost/stolen, etc. GemPrint technology has even been used by the FBI, law enforcement, and the Canadian Government since its beginning. Another advantage of using GemPrint is that many insurance carriers offer a 10% discount on policies, which translates into a huge financial savings over time.
The Diamond Vault of Troy is the only jeweler in Michigan that offers GemPrint technology to its clients. Located on West Big Beaver Road, the Diamond Vault of Troy has become the most widely and positively reviewed jeweler in the state Michigan. GemPrint is another reason why they have been named" Best Jewelry Store" by the Detroit Metro Times and winning "The Best Of" award by The Knot bride's magazine two years in a row, The Diamond Vault is trusted by locals and is known for superior customer service and immense knowledge.
About us
The Diamond Vault of Troy owners, Randall Cole and Timothy Mayer, combine their over 41 years of experience to provide customers with quality service and substantial savings on diamond engagement rings, customer wedding rings, diamond studs, wedding bands, and other beautiful diamond jewelry. Their boutique jewelers work closely with clients to create one-of-a-kind, signature pieces and offer free custom engagement ring designs. In addition to diamonds, the boutique also carries a large selection of fine gems, and as the top buyer of rare and valuable silver and gold coins, provides free consultations. Customers have given glowing reviews and 5 star ratings on many different websites to show that the Diamond Vault of Troy is their jeweler of choice. Their store is located in the Huntington Bank Building, 801 West Big Beaver Suite 103, Troy, Michigan 48084-5823. For more information, or to contact the Diamond Vault of Troy, visit our website at http://www.diamondvaultoftroy.com.