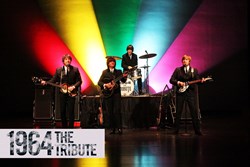 "Best Beatles Tribute on Earth" - Rolling Stone
New York, NY (PRWEB) December 19, 2013
"1964"…The Tribute
Join Strut Productions in welcoming "1964"…The Tribute to Carnegie Hall on Saturday, January 11th. For the thirteenth time, "1964" will dazzle generations of fans old and new while staying true to the memories many have held dear for 50 years. Join us in celebrating the 50-year anniversary of The Beatles' historic 1964 performances at Carnegie Hall.
"1964"…The Tribute, dubbed "Best Beatles Tribute on earth" by Rolling Stone Magazine, has perfected the energy and excitement of a live Beatles performance. Like actors, these musicians cast a spell as they step into character before your very eyes. Critics and fans internationally have hailed "1964"…The Tribute as the most authentic Beatles tribute in the world. For over 29 years, this group of performers has successfully recreated every sensation of being at a Beatles concert circa 1964 through 1966 from wardrobe to hairstyle, Liverpool accents and singing nuances, and vintage instruments.
"1964…The Tribute" is: Mark Benson as John Lennon, Mac Ruffing as Paul McCartney, Tom Work as George Harrison, and Bobby Potter as Ringo Starr.
Tickets at CarnegieCharge 212-247-7800 or http://www.carnegiehall.org/Calendar/2014/1/11/0800/PM/1964-The-Tribute/.