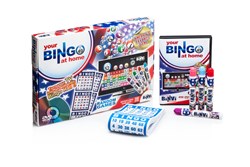 Deaf people can do anything, but hear. Winning at bingo is a great way to prove that we can hold our own in a friendly competition. Totally recommended!
Orlando, FL (PRWEB) December 18, 2013
Many readers may find themselves in the perplexing situation of needing to find a gift for someone with special needs. Specifically, what are appropriate gifts for a deaf person? Your Bingo at Home is pleased to announce a solution to this conundrum, by proposing their new DVD Bingo game designed from its inception to include the hard of hearing.
According to Dennis Lewis, U.S. spokesperson for Your Bingo At Home, "Deaf people all over the world love Bingo! For them, feeling left out or isolated is a special problem and our game lets them participate freely with absolutely no disadvantages."
Thanks to good design, Your Bingo at Home displays all game information visually, in addition to announcing calls out loud. That way Deaf people can enjoy all the fun and excitement of being the one who gets Bingo without feeling that they are playing with fewer possibilities than the rest of the group.
Lewis goes on to explain, "No matter how cold it is outside, as long as the power´s on and you have a TV set and a DVD player, any home is transformed into an authentic bingo hall. Just like a movie, the user simply puts the DVD in the player to enjoy hours of family fun."
Bingo is a great game to help people socialize, and it´s the perfect icebreaker to help new people become old friends. Playing Bingo increases focus because coordinating letters and numbers in combination is a scientifically proven way to stimulate more areas of the brain. For Deaf people sharing an activity on equal footing in a mixed group facilitates the social integration and helps eliminate uncomfortable barriers.
Warning — Your Bingo at Home is not responsible for seismic disturbances caused from jumping up and down when a much anticipated bingo is called.
The holiday season is the perfect time of year for everyone to share in the excitement and fun of being together. For this reason it is especially important that everyone is included by remembering that Deaf people love Your Bingo at Home. Each box contains one DVD Bingo game, four daubers, 300 distinct bingo cards, and thousands of smiles.
———————-
Your Bingo At Home is an interactive DVD bingo game that turns any TV into an authentic bingo hall. It is the perfect game that allows family members of all ages share hours of wholesome family fun.
For more information visit http://www.YourBingoAtHome or call toll free (888) 827-0141.