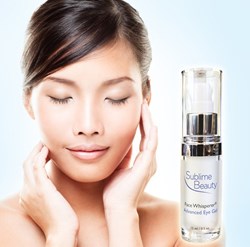 The three patented ingredients work on solving under eye issues, espeically dark circles, bags and wrinkles.
St. Petersburg, FL (PRWEB) December 20, 2013
Reduce bags, dark circles, inflammation or wrinkles from under the eyes with the new Face Whisperer® Advanced Eye Gel.
The serum is being introduced this week by Sublime Beauty®, and it now joins the popular Face Whisperer® line of products.
"The serum has three patented and tested ingredients that really work on under-eye problems," says Kathy Heshelow, founder of Sublime Beauty®. "This is an advanced, highly performing serum to reduce dark circles and bags, and boost skin quality."
The three special ingredients are Haloxyl®, Eyeliss® and Matrixyl®, all formulated by the French company Sederma. Haloxyl® diminishes dark circles, Eyeliss® reduces inflammation and puffiness, while Matrixyl® boosts collagen production which is lost with time and age.
"We love these ingredients," says Heshelow. "For instance, Eyeliss® works on the SOURCE of eye bags, not the symptoms. And Matrixyl® has been shown in tests to double collagen, the source of youthful skin."
The Face Whisperer® line has been highlighted on the Ion and History channels (Consumer NewsWatch TV) and on NCN.
All Sublime Beauty® products are sold on Amazon, with fast delivery and checkout. The new Face Whisperer® Advanced Eye is on sale now.