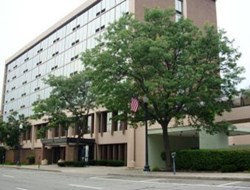 Chicago, IL (PRWEB) December 18, 2013
Paramount Lodging Advisors (PLA) is pleased to announce the sale of the Ramada Jamestown located at 150 West 4th Street in Jamestown, New York.
PLA Senior Associates Bennett Webster and Brent Clemens represented the seller in the sale of the REO full service asset.
PLA sold the asset through Auction.com, marking the team's sixth consecutive successful Auction.com sale this year. "Through our intensive marketing process and in-depth knowledge of the investment market in upstate New York, we were able to garner approximately 150 registered parties, which consequently led to strong bidding pressure," said Webster. Clemens continued, "Well before the marketing process began we researched several alternative branding options. The city was very pleased to see the winning bidder's plans to reposition the asset as an upper-upscale hotel."
PLA worked directly with the city and the Mayor's office to ensure buyers were aware of city incentives available for the asset purchase and renovation. Vince DeJoy, Jamestown's Director of Development, stated, "We were more than pleased with PLA's marketing effort. From start to finish it was handled professionally and thoroughly. The city was impressed with the number of qualified lodging groups that PLA introduced us to. We could not be more pleased with the qualifications of the new buyer and their future plans for the asset, as it parallels our vision for downtown Jamestown."
According to a spokesman for the seller, "We could not be happier with the outcome and PLA's execution on the deal. PLA demonstrated superior market knowledge and a uniquely thorough approach to marketing this type of REO asset."
Paramount Lodging Advisors (PLA) is a hotel brokerage and advisory firm specializing in the sales of hospitality assets, debt and equity placement, as well as value enhancement services across the United States. For more information about PLA, please visit http://www.paramountlodging.com/.