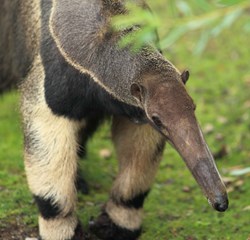 Even jaguars have paid with their lives by underestimating these slow-moving creatures. -- from Fascinating Facts PDF Attachment
Naples, FL (PRWEB) December 19, 2013
Bizarre. Cute. Amazing. Just a few words people find themselves saying when they see some of the wondrous animals from South America. And now Naples Zoo at Caribbean Gardens is offering residents and visitors to Southwest Florida the chance to find out for themselves what words they come up with when they see visually striking monkeys that live in a small range in the forests of Colombia or giant relatives of the guinea pig found in the scrub deserts of Argentina – or the creature that perhaps captures the imagination the most, the knuckle-walking, sharp-clawed, long-faced giant anteater of the South American grasslands. Premiering on Saturday, December 21, 2013, these fascinations of nature and more are the newest arrivals at Naples Zoo at Caribbean Gardens, a historic botanical garden and nationally accredited zoo.
At the new exhibits, a glass-viewing wall will allow guests to appreciate the giant anteater with its iconic snout as it shuffles through the tropical foliage or plays in the water. And never before seen at Naples Zoo are the Cotton-top tamarins, tiny monkeys with a shock of hair that has to be seen to be believed. Also new are Patagonian cavies, large rodents related to guinea pigs that are known for their monogamous lifestyle. Living in the branches above the cavies will be the Zoo's female two-toed sloth. Over thirty years old, this will be the first time this long-time beloved favorite will be seen outside of the Safari Canyon shows. And nearby will be red-footed tortoises, known for their crimson spots and a taste for flesh.
With generous support from The Martin Foundation, the new species can be seen in the southern gardens where the Zoo updated existing animal habitats with additional plantings, water elements, glass viewing, and thatch shelters to create this diverse new wildlife experience for guests.
Naples Zoo's commitment to New World species like these extends far beyond the care they receive at the Zoo to the wilds of Central and South America itself. Naples Zoo supports field conservation projects for a variety of rare species including the giant anteater as well as another oddity, the giant armadillo, an ice age leftover that can tip the scales over 70 lbs. A sampling of other species Naples Zoo helps in the wild includes mountain tapirs, blue-throated macaws, Andean bears, and the vulnerable three-wattled bellbird, the bird that produces the loudest birdcall on Earth. To return animals impacted by the illegal wildlife trade, the Zoo supports a rescue center that rehabilitates animals from spider monkeys to jaguars taken from the Mayan Biosphere Reserve. Naples Zoo also funds the Caribbean Conservation Training Scholarship each year to allow a colleague from t he Caribbean Basin to take a professional training course in the United States to bring home this knowledge to his or her home country.And to keep forest habitat for our migratory birds that winter in those lands, the Zoo promotes and serves shade-grown coffee.
About the Zoo
Naples Zoo at Caribbean Gardens is a 501(c)(3) nonprofit organization cooperating in conservation programs both in and outside the wild for endangered species including a full day of fun presentations and wild cruise through islands of monkeys, lemurs, and apes. Your ticket includes admission to both the nationally accredited zoo and historic accredited garden along with shows, exhibits, and the boat ride. ($19.95 adults age 13+/ $12.95 children 3 to 12, under 3 free. Children under the age of 16 must be accompanied by an adult at least 18 years of age). Zoo memberships and discount tickets are also available online at http://www.napleszoo.org. Naples Zoo welcomes guests from 9:00 to 5:00 with the last ticket sold at 4:00 and is located at 1590 Goodlette-Frank Road across from the Coastland Center mall in the heart of Naples. (Naples Zoo is closed on Christmas Day, but is open on New Year's Eve and Day.) To learn more, click http://www.napleszoo.org, like them on Facebook, or call (239) 262-5409.