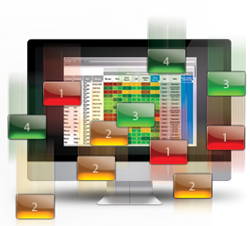 By giving our customers the ability to predict performance, we provide analytics that enable them to transform their workforce into the high-performance force necessary to survive and thrive.
Dayton, Ohio (PRWEB) December 18, 2013
Chally Group Worldwide, a leading sales performance and potential measurement firm, has released PerformanceTrac 2.0, a dynamic talent measurement tool that answers key business-driver questions and enables organizations to target development solutions to drive productivity across the workforce.
In order to be successful in today's complex and rapidly changing environment, organizations must differentiate high and low performers and enable leadership to target improvement investments. Chally's PerformanceTrac was developed to address these needs, providing a data driven means to diagnose an organization's workforce potential and compare that data with a measurement of their current state of performance to determine the exact workforce transition and developmental plan needed to meet strategic goals. Once gaps are identified, learning and development functions can prescribe training, coaching and development to ensure the highest return on training investments.
"We know the key drivers of revenue growth often focus on sales force effectiveness. With PerformanceTrac, our clients can pinpoint future sales managers and leaders, and identify what development they will need," says Bob Schwab, senior vice president, sales and marketing. "Other outcomes include reduced turnover and increased productivity within your current workforce, providing real improvement channels for motivated employees."
The solution is built on decades of Chally's data and industry-leading research into sales and leadership characteristics and competencies, as well as the analytical tools and experience to turn data into actionable talent management insights.
According to Chris Holmes, Ph.D., senior research consultant, "We uncovered insightful data with our early-adopters. Our unique approach addresses a number of the limitations of contemporary multi-rater feedback tools. We can eliminate many of the causes of bias and lack of objectivity in the measurement process by making use of questions that target specific job-related competencies, and avoid positive or negative rating impacts."
The core offering includes several value-added components to assist in development planning.
*Executive Summary report - Summarizes the results of employees on the Chally Sales and Management profile. These reports include a 9-Box Grid for each of the competencies to get a view of the team's potential and performance with highlighted areas of recommended coaching and development.
*Aggregate Gap report – Designed for senior executives, this report is complete with Potential and Observed (Multi-Rater) scoring by individual, competency and profile.
*Individual Report – Designed to provide participants with valuable feedback to assist them in gaining a better understanding of their strengths and opportunities for improvement and how to focus on their development plan.
"Chally has established the deepest and broadest database of any other Talent Management provider," stated CEO Ken Carroll. "We have uncovered insights and opportunities from new and emerging sources of data over the past 40 years to achieve a significant analytics foundation. By giving our customers the ability to predict performance, we provide analytics that enable them to transform their workforce into the high-performance force necessary to survive and thrive."
This news follows the release last month of the Targeted Business Application, part of the building momentum the company has experienced in the second half of the year. Growth projections for 2014 are optimistic as market demand for increased accuracy and usability of talent measurement continues to rise.
For more information about PerformanceTrac, visit http://chally.com/solution-suite/performance-trac/.
About Chally Group Worldwide
A global sales and leadership potential, performance and talent measurement firm, Chally Group Worldwide provides its industry-leading research, predictive analytics and advisory services to clients across 60 countries. Chally assures that our customers have the information they need to grow sales and minimize risks associated with talent management decisions relating to selection, alignment, development and succession planning. Visit http://www.chally.com or follow @ChallyGroup on Twitter.