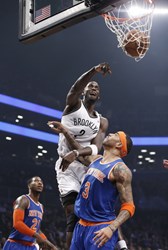 Denver, CO (PRWEB) December 18, 2013
Despite a myriad of struggles both on and off the court, the Knicks, Nuggets and Nets have driven to the top of the league in ticket sales, according to Marta Ault at BuyAnySeat.com
This past offseason, Denver fired their coach, lost their general manager, and stood idly by as three of their best players walked. Despite finishing third in the Western Conference last season, nobody expected the team to be playoff contenders.
Now however, at 14-9, Denver sits in seventh place in the Western Conference, just six games out of first place and playoff hopes are high in the Mile High City.
Meanwhile, the Knicks and Nets seem to have spent big money only to end up with mediocrity at the moment. At a combined 15-31 heading into Week 7, the two New York teams have a lot to prove to their fans.
Both teams have paid for the talent they need to win, but have struggled mightily this season. With a number of big name players on both rosters, it is hard to imagine the fall these two teams have taken in the first quarter of the season. Fans, however, remain loyal as the season is still young and anything can happen.
"Despite their struggles on and off the court, these teams are the hottest ticket sellers," said Marta Ault at online ticket marketplace BuyAnySeat.com. "While the Nuggets are poised for a playoff run, the Knicks and Nets are looking to rebound with the support of their fans."
"That's why we're proud to offer fans the most comprehensive and continuously updated selection of sports tickets online, with a worry-free guarantee to protect their purchase.
"To access the full line-up of NBA Basketball tickets now available, customers can go to BuyAnySeat.com and click on the NBA header to select their team and their tickets," added Ault.
All three franchises finished near the top of the standings and made the playoffs last season. This year fans expect the same and are buying in for another playoff run as we approach the second half of the season.
The top ten teams this week are the Indiana Pacers, Portland Trailblazers, Oklahoma City Thunder, San Antonio Spurs, Miami Heat, LA Clippers, Phoenix Suns, Houston Rockets, Denver Nuggets, and the Minnesota Timberwolves.
Key matchups this week include Houston taking on the hot Pacers in Indiana while Phoenix travels to Denver for a showdown against the feisty Nuggets.
To shop for NBA Basketball tickets visit BuyAnySeat.com.
About BuyAnySeat.com: An online ticket marketplace, BuyAnySeat.com connects sports, theater and other live entertainment fans to an extensive network of ticket sellers worldwide. The site's simplified listings and navigational tools enable shoppers to easily locate, compare and purchase inexpensive, discounted or lower-priced tickets to virtually all advertised sports and entertainment events around the globe.
The ticket marketplace, which is PCI-compliant and Norton Secured, also provides customers with a complete Worry-Free Guarantee on all ticket purchases. Based in Denver, Colorado, BuyAnySeat.com is a subsidiary of Denver Media Holdings. For more information, please visit http://buyanyseat.com.