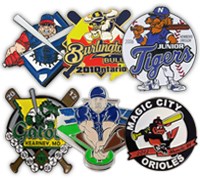 Trading pins are the calling card of a little league team... they're large, creative, and capture the spirit and origin of a team.
(PRWEB) December 30, 2013
PinMart is happy to announce that it is once again teaming up with the Nationals Youth Baseball Tournament for the 2014 season. NYBT's standing in the world of youth league baseball is unparalleled when it comes to both on field and off field experience, and PinMart is lending their years of experience creating unique, award-winning trading pins to this all around experience. Both are leaders in their industries, and with the increasing attention paid to the extra-curricular activity of pin trading, PinMart has been chosen to facilitate this increasingly important aspect of the world of youth league baseball.
Trading pins are the calling card of a little league team. These pieces are large and creative and capture the spirit and the origin of the team with mascots, location, names, numbers, glitter and other eye-catching components. The fact that Nationals holds a yearly competition between all 100+ teams to determine who has the most inventive, impressive, aesthetically pleasing set of baseball trading pins means that PinMart will be responsible for creating a new standard for trading pins. And because PinMart has aligned itself with Nationals, teams are getting the same quality that has attracted over 300 of the top Fortune 500 companies in the country.
With PinMart and Nationals maintaining their partnership for a second consecutive year, increasing attention is being put on trading pin culture both inside and outside of Nationals tournaments. And while PinMart is affiliated with Nationals, representatives with the company assure other youth league teams that their commitment and dedication to all orders for baseball trading pins remains as strong and dependable as it ever was.
About PinMart: PinMart, Inc. is a privately held company located in Mount Prospect Illinois, a suburb of Chicago, specializing in the design and manufacture of baseball trading pins, custom pins, emblems, awareness products and emblematic jewelry. PinMart sells stock products via its online store and offers custom design manufacturing. PinMart has taken advantage of its well-positioned internet presence and now boasts a client list that includes over 300 of the Fortune 500 companies.