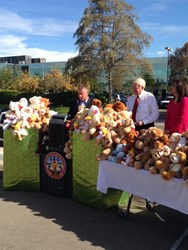 San Diego, CA (PRWEB) December 17, 2013
Millennium Laboratories, a leader in the science of toxicology and pharmacogenetics, delivered 15,000 stuffed animals to San Diego County's foster children and at risk youth at an event on Monday at the Polinsky Children's Center in Kearny Mesa, Calif. Millennium's management and employees collected the stuffed animals in the months of November and December, and through this donation and unique partnership, hope to provide the children cared for by various San Diego County organizations with support, courage, and hope during a difficult time in their lives.
"Millennium is excited to partner with the County of San Diego and support programs like the Polinsky Children's Center, which provides a vital resource to the abused and abandoned children of our community," said President of Millennium Laboratories, Howard Appel. "This is truly a celebration of the efforts by so many community and government organizations, and we are honored to serve the community in which we live and work."
At the event, Chairman Greg Cox, County Board of Supervisors and Debra Zanders-Willis, Director, County of San Diego Child Welfare Services, accepted Millennium's donation of 15,000 stuffed animals collected by management and employees. Video and reporting from this event can be found at: http://countynewscenter.com/video?v=153329.
"We can give a child a teddy bear when they are going through a very stressful situation in their lives. There is nothing like a teddy bear to make people feel a little more warm and fuzzy, particularly for kids," said Supervisor Cox.
"It is a very generous donation, and very timely. This time of year many of our children are separated from their families, and while the teddy bears can't replace the nurturing and love that they would get from their families, it certainly offers them comfort and a bright light during this particular season," said Zanders-Willis.
The Polinsky Children's Center provides care to thousands of children every year ranging in age from newborn to 18 years, who must be separated from their families for their own safety, or when parents are unable to provide care. This center is San Diego County's only emergency shelter for children who cannot remain at home as a result of abuse or neglect. On any given day, San Diego has 3,300 children living in the foster care system (1).
A number of organizations that partner with the County of San Diego to provide services to foster, at risk, and homeless children will also receive stuffed animals as part of this donation. Some of the identified recipients include Straight From The Heart, St. Vincent De Paul Village, and the Armed Services YMCA at Camp Pendleton.
(1) About Promise2Kids. Promise2Kids Web site. http://promises2kids.org/about-us/. Accessed December 16, 2013.
ABOUT MILLENNIUM LABORATORIES
Millennium Laboratories, a leader in the science of toxicology and pharmacogenetics, is transforming the way health care professionals monitor and manage their patients' medication therapy. Through the use of advanced technology, supported by research and education, Millennium helps practitioners personalize care for patients. More information can be found at http://millenniumlabs.com/.
Contact:
Nicole Beckstrand
Millennium Laboratories
858-217-1192
Nicole(dot)beckstrand(at)millenniumlabs(dot)com
###