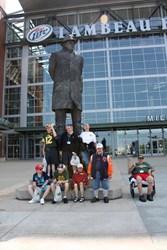 Life experiences stimulate the mind and promote a positive state of mind.
Wausau, WI (PRWEB) December 17, 2013
Voyages for Growth, a program funded by generous donations from our community to North Central Health Foundation, was developed to provide opportunities for 81 participants to grow and expand their level of interest and community engagement through unique travel experiences. On Monday, December 9th, nine Voyagers with developmental disabilities will have their dreams come true during a travel opportunity of a lifetime to Orlando Florida. The entire trip has been funded by North Central Health Foundation, lead by its Board of community leaders who seek to enrich and improve our community by servicing those individuals in need of skilled nursing, developmental, mental health, crisis, protective and addiction therapies and resources.
Voyages for Growth has worked in collaboration with a professional travel agency that specializes in custom travel arrangements for those with disabilities. Teamed with familiar faces from North Central Health Care and the experts from Hammer Travel, individuals in North Central Health Care's Residential Program will experience the opportunity of a lifetime in unique vacation travel! http://www.norcen.org/foundation/voyages-growth
Often, individuals with disabilities are not able to obtain many typical life experiences. There are many financial and physical barriers preventing individuals with physical and mental disabilities from successful and enjoyable life experiences. Voyages for Growth has removed those barriers!
Planning for trips began in March of 2013. Voyagers took part not only in choosing their destination, but planning, organizing and setting goals for their unique trip.
The Benefits for Our Voyagers?

Stimulate personal growth and social development through individual interests
Stimulate interest in community and positive state of mind through a sense of belonging
Promote physical health through active engagement and participation
Build long-lasting relationships
Build self confidence and awareness
Motivate and drive social development
Beginning in September of 2013, trips were taken by our Voyagers to several locations:

Green Bay for a Packers Experience including training camp, lunch at Curley's Pub, and stadium tours
Door County to experience to views of our fine state of Wisconsin.
Milwaukee, Chicago and even Dollywood, Tennessee!
Now, our Voyagers will be taking the last trip of 2013 to Orlando Florida. Departing on Monday, December 9, Voyagers will experience Orlando theme parks and embark on the travel opportunity of a lifetime.
North Central Health Foundation is a 501(c)(3) dedicated to raising funds that help support the programs and services of North Central Health Care. Donations can be made to the North Central Health Foundation anytime, by visiting our website at http://www.norcen.org/foundation. You can download donation forms or donate online through our online donation tool. You may also view a video about Voyages fro Growth or download a brochure online. http://www.norcen.org/foundation/voyages-growth.
North Central Health Care compassionately serves the counties of Marathon, Langlade and Lincoln through an accessible, specialized continuum of care. Comprehensive health and wellness therapy, rehabilitation and skilled nursing are provided for people of any age, allowing them to live the quality life they deserve.